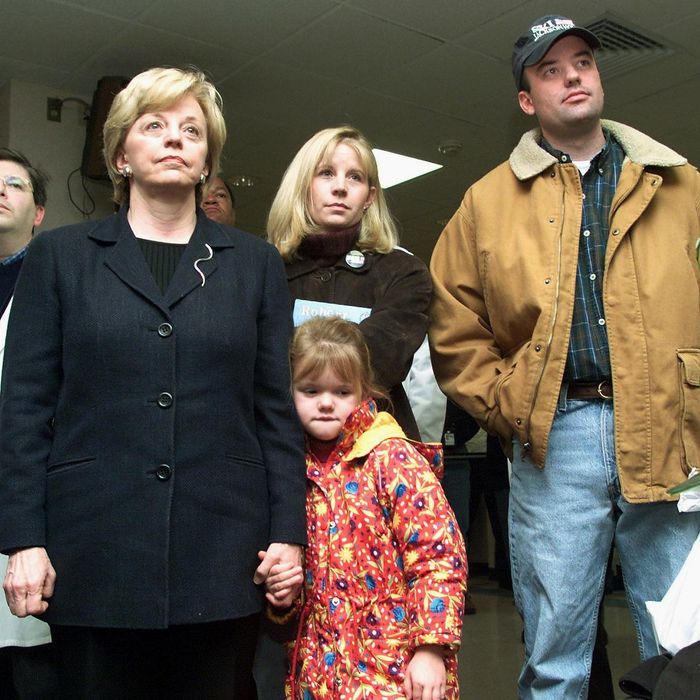 Daddy, voter fraud makes me sad.
Photo: MARIO TAMA/AFP/Getty Images
Fed up with being the only member of the family without a scandal to call his own, Senate candidate Liz Cheney's husband has been registered to vote in both Virginia and Wyoming for the past nine months. Phil Perry registered in Wyoming in March, and ususally the Teton County clerk's office sends a withdrawl request to the county where the voter was previously registered. Yet, for some reason, Perry "signed an oath saying he was not currently registered anywhere else," Sherry Daigle, the county clerk, tells Politico. The whole thing certainly isn't as dramatic as Liz Cheney unlawfully obtaining a Wyoming fishing license, but Perry probably should have known that he was registered to vote in the D.C. suburb of McLean, Virginia, since he voted there in the 2012 presidential election.
A Cheney spokeswoman said Perry has asked Virginia to take his name off the rolls, but wouldn't say when he put in the request. Nor would the campaign discuss how much time Perry actually spends in Wyoming. While he's appeared in his wife's campaign ads, he still works at a D.C. law firm.
The registration dust up adds fuel to accusations that Cheney, who bought a home in Jackson Hole in May 2012, is a carpetbagger. On the plus side, it's a temporary distraction from her nasty family feud over gay marriage.