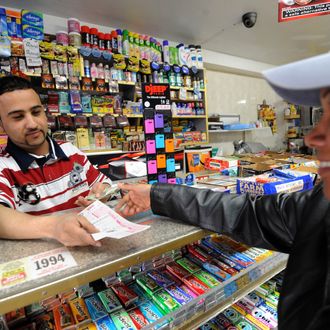 Clerk Abdulwali Mohamed Osaim (L) sells Mega Millions lottery tickets at a convenience store on the east side of Manhattan March 30, 2012 in New York. The jackpot is at a record level because no one has matched the magic five numbers and Mega Ball since January 24 – a full 18 drawings with no winner. Given the pace of the ticket buying, the jackpot will go even higher. A lottery spokesman reportedly has announced that the jackpot has risen to $640 million.
Photo: Stan Honda/AFP/Getty Images
To be precise: In just the past year, twelve New Yorkers have failed to claim lottery winnings of at least $1 million. Why are these people even playing the lottery? Just for a chance to flirt with the bodega guy?