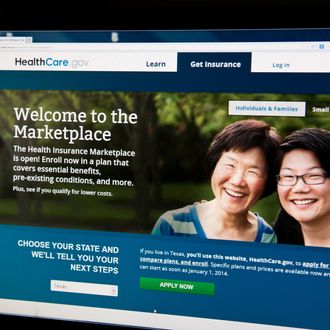 Photo: KAREN BLEIER/AFP/Getty Images
While the federal exchange that Americans in 36 states must use to sign up for Obamacare won't release its numbers until mid-January, at least three states saw a significant increase in people purchasing insurance just before the December 23 deadline for coverage beginning on New Year's Day. Per the Washington Post's Wonkblog:
>
California estimates that 27,000 people picked insurance plans this past Monday and 29,000 the Friday prior. Just last week, the state was averaging 15,000 sign-ups per day. Washington state had 10,000 people enroll Monday, and a total of 20,000 from Dec. 20-23. That accounts for one in 10 Washingtonians picking private health insurance plans. And New York had about 20,000 sign-ups come in that same day.