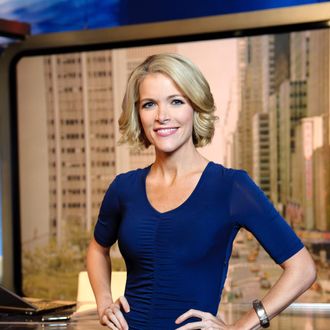 Photo: Jon Vachon/Getty Images
On Wednesday evening, Fox News's Megyn Kelly anchored a segment during which she declared that Santa is definitely white. "Santa is what he is," she insisted, regardless of the effect that might have on children of other races, and also the fact that Santa is not real. (She also took the opportunity to point out that Jesus, who was supposedly born in the Middle East, was white as well.) Obviously, there was some backlash. So, when Kelly didn't show up to host The Kelly File on Thursday, some wondered whether Fox was pulling an MSNBC and punishing its rising star for her offensive remarks. 
Apparently, the answer is "of course not." TVNewser reports that Kelly just happened to be out sick, and she "will address her controversial comments about Santa Claus and Jesus" tonight. While Kelly did mention that she wasn't feeling well earlier this week, we can't help but wonder if she just wanted to make sure she was home to watch Jon Stewart's reaction to the whole thing live.