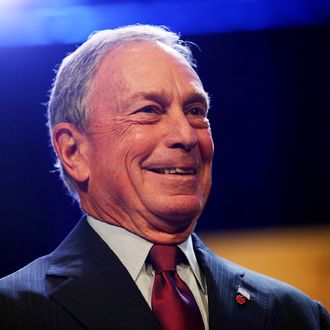 "I'm free!"
Photo: Spencer Platt/Getty Images
Even the famously hardworking mayor is taking it easy at work today. "Serving as mayor, working alongside you for the betterment of New York City has been one of the greatest privileges of my life," said Michael Bloomberg this morning at an interfaith breakfast, his very last event in charge after twelve years in office. "The fact that a Jewish kid can quote the Pope in a secular building built by protestants in front of Hindu, Muslim and Sikh leaders, really, I think, says all you need to know about New York City," he added. But fuzzy feelings aside, he's going to wrap things up a bit early and get out of Bill de Blasio's way.
"Why am I leaving at 4:45? Cause I've got a party to go to tonight and I want to go home and run maybe," Bloomberg told reporters, according to Politicker. "But I will still be on call till 11:59:59."
Then all bets are off, he warned previously: "On Jan. 2 my girlfriend and I are going on our first vacation in 12 years, to Hawaii and New Zealand, to play golf." Don't bother calling.