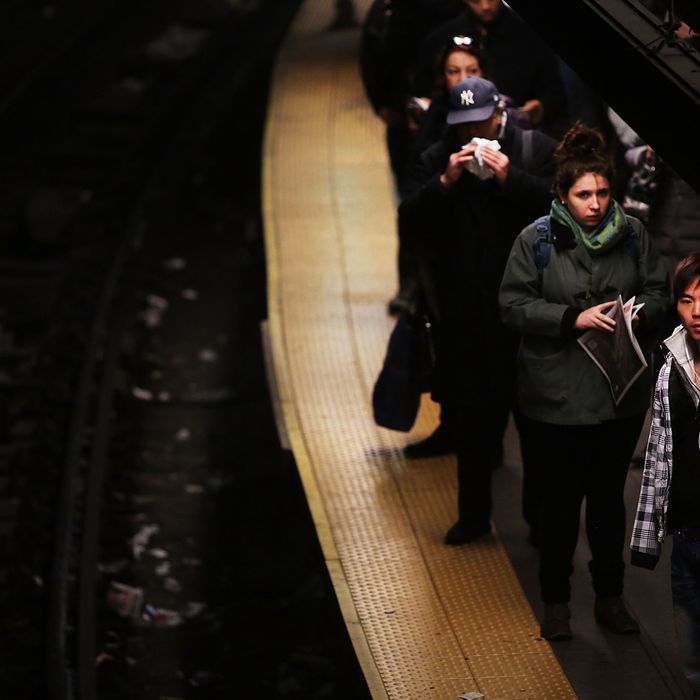 People who are
not
on the tracks .
Photo: Spencer Platt/Getty Images
An average of 49 people a year have died on the subway tracks in New York City since 2001. Some of them jumped, while others fell — either owing to a medical condition, drunkenness, or some other impairment — and still others were pushed by crazy homeless people. In response to these regularly occurring deaths, the MTA's safety plan has essentially been tantamount to "Well, hopefully you don't fall or get pushed onto the tracks by a crazy homeless person. Good luck."
But, finally, the MTA is looking into actually, you know, doing something to prevent such incidents from happening. The Daily News reports that the agency is embarking on a pilot program at a single, undisclosed station, which will test four different methods of detecting when a person has fallen onto the tracks: Lasers, radio waves, thermal sensors, and cameras with "intelligent video" software. All four methods would "transmit live video to the Rail Control Center" and "activate trackside signals that tell approaching motormen to apply the brakes" when a track intrusion takes place. Obviously, none of these systems would stop someone from jumping directly in front of an oncoming train, but short of erecting platform-length barriers in every station in the city, nothing can.