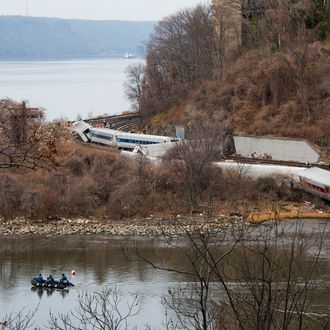 Photo: Eugene Gologursky/Getty Images 2013 Eugene Gologursky
The latest trouble for Metro-North comes not with something awry at the railroad, but something it fixed: The railroad upgraded its signals last week to  warn operators if they are going too fast for a certain section of track, and to automatically slow the train down if the operator fails to respond. This is good news! But the fact that those upgrades weren't in place before, when upgrading them would have been a relatively easy job, is not so good.
According to the New York Times, the railroad's cab signalling network "has long included the ability to enforce speed limits if modified accordingly." But before the crash it simply hadn't been. "Some board members said they were more startled than reassured by the speed with which the authority was able to complete recent signal work," the Times reported. Now that they've made the upgrade, though, everything's fine, right? Well, maybe, but the feds still want a second opinion.