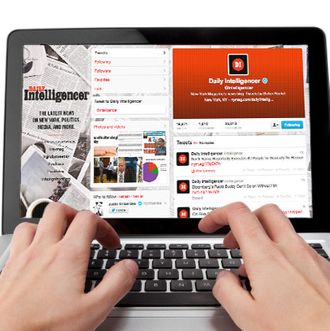 Welcome back to the New York Magazine Competition. The best of last week's submissions, including the winner, appear below this week's call for entries.
It's easy to play: On Monday mornings, we'll lay out a challenge and offer a few sample responses. Give it your best shot in the comments section, or on Twitter with the hashtag we've provided, and on Sunday the editors will select a winner. Criteria are highly subjective, but heavily retweeted and favorited posts will have an advantage. The prize is a year's subscription to New York in print or a two-year subscription to the iPad edition (winner's choice). Full rules are here.
COMPETITION NO. 8: BILL DE BLASIO'S FIRST 100 DAYS. Please submit a headline announcing the first policies, plans, or rulings from the new mayor. For example:
SECOND AVENUE SUBWAY WILL BE EXTENDED TO BROOKLYN TECH HIGH SCHOOL
ALL GRISTEDES STORES SEIZED, CONVERTED TO FOOD CO-OPS
NYC PUBLIC SCHOOLS TO BEGIN ALL MUSIC CLASSES WITH "THE INTERNATIONALE"
Post your submission in the comments below, or on Twitter with the hashtag #deblasiofirst100days.
COMPETITION NO. 7: CHRISTMAS CARDS OF THE STARS, in which you were asked to compose a holiday message from a public figure.
HONORABLE MENTION TO:
"Merry Christmas, which was a holiday named after Jesus Christ, who was born on December 25, bringin' joy and happiness to Christians around the world and tellin' us to fight the people who want to take our guns and Christmas away from us. Buy my book — it's all in there!"  — Sarah Palin
— HOIPOLLOI
"Save a stamp: Please log on to the NSA website to view my Christmas Card and metadata sent especially to you."  — Edward Snowden
— RIVERHAWK
"MERRY CHRISTMAS! Sorry about the one face cut out." — The Kim Jong-Un family
— MIDDLECOASTDAN
"Happy Holidays! Good Luck with the Overdraft." — Target
— UNCLE_MIKE
"MARY, YOU AND JOE DIDN'T MAKE THAT." — Elizabeth Warren
— ISHRIMPFISH_THEREFOREIAM
"HAPPY HOLIDAYS. DRIVE CAREFULLY." — Gov. Chris Christie and staff.
—DC10001
"Just leave us alone, ok? Haha … Just a Christmas joke!"  — Kanye, Kim, and baby North West
— CATHYPEM
"You may have an enjoyable holiday experience, whether you celebrate Christmas, Hanukkah, Kwanzaa or any of the other available options, or you may not have that opportunity in your life. That's just the way G-d works." — Michael Bloomberg
— WALLFLY
"To the help: You can take December 25th off." — The Romneys
— FLIRTYSANCHEZ
AND THE WINNER IS …
"Merry Christmas from the Cheney family. Well, except for the sodomite."
— CONTRARIAN_DIP