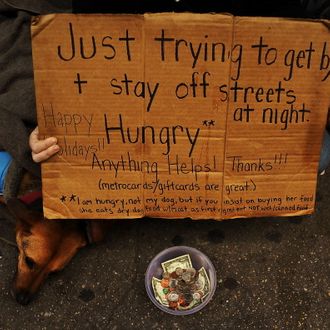 Photo: Spencer Platt/Getty
The New York Post's editorial board is absolutely incensed at the temerity of the New York Times for suggesting there is anything wrong with the city's homeless shelter system, which the Grey Lady did in a five-part series called Invisible Child. In a damning rebuke to the Times' year-long reporting project that documented one girl's journey through a broken system, the Post spoke with an unnamed spokesman for an unnamed city agency, who said her family's situation was "atypical," and that "New York City provides families in need, including this one, with subsidized health care, child care, shelter, job-training, counseling and placement services." The Post is pretty sure that means the family of ten is pulling a fast one on the city with its 540-square-foot shelter room.
Yes, the family's housing has problems, including mice and reports of sexual assaults and other crimes. But the Times and Elliott, like much of the liberal establishment, seem to think it's the city's job to provide comfortable lives to outrageously irresponsible parents. In this case, that's a couple with a long history of drug problems and difficulty holding jobs.

Something's wrong with that picture.

If the city is at fault here, it might well be for having been too generous — providing so much that neither the father nor mother seems much inclined to provide for their kids. That would be a story worth reading.
Indeed, minor annoyances such as sexual assault are a small price to pay for the privilege of dwelling in a shelter the Times describes (based on its own extensive reporting) as "a place where mold creeps up walls and roaches swarm, where feces and vomit plug communal toilets, where sexual predators have roamed and small children stand guard for their single mothers outside filthy showers." Where can the Post's editorial board sign up?