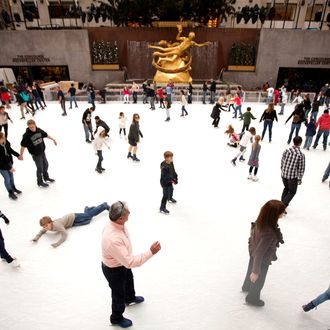 A more normal winter scene.
Photo: Michael Nagle/Getty Images
The eerily mild temperatures New York and much of the Northeast have experienced over the last two days are giving warm-weather–lovers an early gift: the experience of a balmy run-up to Christmas. On Sunday, the mercury in New York hit a record-breaking 67 degrees (the average is 41 degrees) aided by a "warm unstable air mass" that hasn't been friendly to at least one of the city's beloved holiday traditions. 1010 Wins reporter Glenn Schuck noticed that Rockefeller Center's ice rink is in danger of melting.
And even if those squeegees don't quite do the trick, everything should go back to the way it's meant to be soon enough. Expect temperatures to be in the 30s come Christmas Eve.