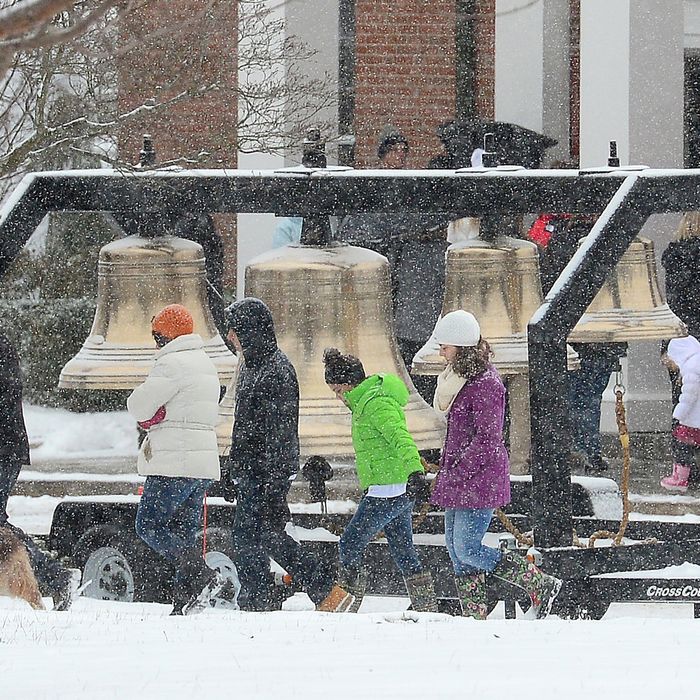 Today is the first anniversary of the Sandy Hook Elementary School shooting in Newtown, Connecticut, where 26 people — including twenty first-graders — were killed. Starting at 9:30 a.m. this morning, the bells at Newtown's St. Rose of Lima church rang 26 times, and the victims' names were read over a loudspeaker. (Connecticut's governor asked that the rest of the state ring bells at the same time, as well as fly flags at half-staff.) The town does not have any other public acts of remembrance scheduled — a planning decision that was made in an effort to discourage outsiders from disturbing the grieving community.
On Monday, Newtown's first selectman, Pat Llodra, asked members of the media to stay away on the anniversary of the tragedy, so that residents could have "the time to be alone and quiet, with time for personal and communal reflection." Most organizations have complied: CNN, Fox News, ABC News, CBS News, NBC News, NPR, PBS NewsHour, the New York Times, USA Today, the Washington Post, and local television stations all announced that they did not plan send journalists to the town today. (The Associated Press did dispatch a reporter and photographer, whose coverage is to be made "available to media worldwide.) 
At the White House, President and Michelle Obama commemorated the event by lighting 26 candles. Obama also used his regular Sunday address to call for stricter gun control and improved mental health care: "We haven't yet done enough to make our communities and our country safer," he said. "We have to do more to keep dangerous people from getting their hands on a gun so easily. We have to do more to heal troubled minds." The words are familiar but, a full year after Adam Lanza burst into Sandy Hook, the achievement those goals seems as far off as ever.