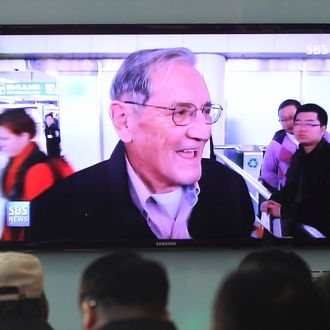 Photo: Ahn Young-joon / AP/Corbis
North Korea on Saturday freed Merrill Newman, the 85-year-old Korean War veteran it held prisoner for more than a month, after he "apologized" last week for killing soldiers and civilians in the North after the war. Or rather, to use the North's language, it "deported" him. Newman landed in Beijing on Saturday morning, where he transferred to a flight bound for San Francisco. Newman's freedom coincides with a visit to the region by Vice-President Joe Biden, CNN points out, citing a senior administration official who "said that Newman's release was the result of direct contact between Washington and Pyongyang. The official said the North Koreans called to tell the Obama administration they were releasing Newman without explaining their decision." So far, Newman has had only positive comments about his time in the North.
"I'm very glad to be on my way home," Newman told reporters in Beijing. "And I appreciate the tolerance the DPRK government has given to me to be on my way. I feel good, I feel good. I want to go home to see my wife." Hardly a condemnation of the regime for his sudden imprisonment when soldiers hauled him off a flight in October. But then, Newman wasn't home yet either.
When he issued his (probably coerced) apology last week, Newman promised to speak glowingly of the North if it ever let him go. "On this trip I can understand that in U.S. and Western countries, there is misleading information and propaganda about DPRK," he said. "If I go back to (the) USA, I will tell the true features of the DPRK and the life the Korean people are leading." Hopefully he will offer a less scripted account of his time in the North once he's on U.S. soil, but until he's home, one can certainly understand why Newman is staying on message.
Another American imprisoned in North Korea, 38-year-old Kenneth Bae, remains there, despite the White House urging his release.