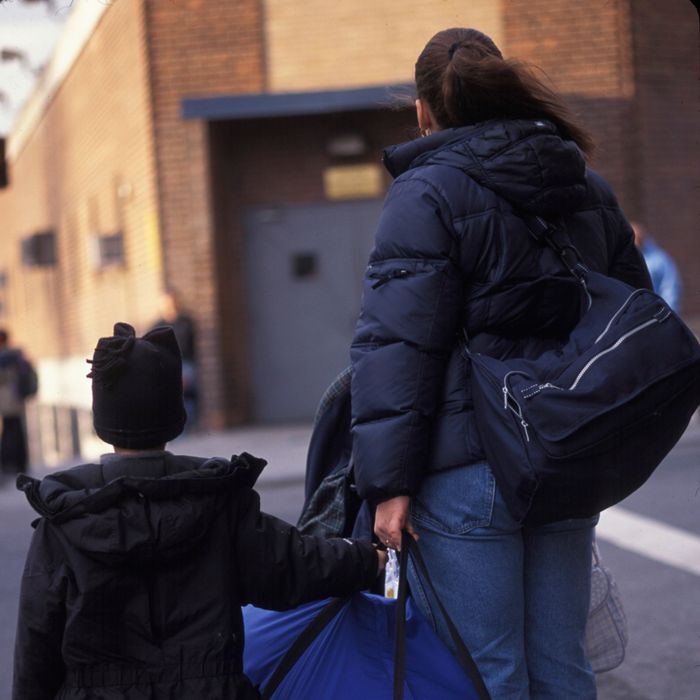 Photo: Mark Peterson/Corbis? Corbis. All Rights Reserved.
Until this year, Cameron, 15, was one of the loneliest children her case worker had ever seen. The little girl entered the foster-care system a decade ago when her drug-addicted parents could no longer care for her and spent that period in and out of psychiatric treatment centers, hospitals, and group homes.
But then, earlier this year, New York City began an experiment using Facebook and other avenues to find the lost extended-family members of parentless children — a strategy borrowed from the International Red Cross's system for reconnecting refugees with their relatives after a war. And now Cameron may finally be on her way home.
Last January, New York City's child-welfare system, known as the Administration for Children's Services, or ACS, quietly rolled out a program by the name of family finding, a new approach to foster care that city officials hope will bring the number of children in the system — already at its lowest point in decades — even lower still, by reuniting kids with extended family members who in many cases didn't even know the child was in foster care at all.
While numbers are still scarce, there are signs that it could fundamentally change how New York City deals with foster children. Across the city, case workers are helping kids search for the fathers they've never met on Facebook. Mothers who lost custody are being reconnected with their extended families, and, in turn, their children. Kids like Cameron who've been in foster care for more than a decade are going home to aunts and uncles they never knew they had. 
"What we're seeing is that there is extended family for every child. This is the most exciting thing I've seen happen in child welfare in all my years," said Richard Altman, CEO of the Jewish Child Care Association, one of five foster-care agencies tapped by the city to run the pilot. "It's letting us give hope to children that have led lonely and hopeless lives. It is an extraordinary innovation."
In practice, case workers essentially reconstruct a kinship road map of up to 60 extended family members in hopes of finding capable, loving relatives who will take the child in. For nearly a year now, the city has deployed it as part of a pilot program, testing the waters to see if it can be used citywide. 
The program is the latest step in the quiet but remarkable turnaround of the city's foster-care system, a success story virtually ignored by a local media that tends to focus on the sexier dimensions of the city's transformation, from its spiraling reduction in crime to the hip, gentrifying neighborhoods that two decades ago were more like war zones.
Much like the five-part series that ran in the New York Times last week following the plight of Dasani, an 11-year-old girl and one of the city's 22,000 homeless children, this, too, is part of Mayor Michael Bloomberg's complicated legacy with the most vulnerable New Yorkers. But here, in the final tally of his dozen years in office, those who know the city's foster-care system best say plainly that its transformation, while far from flawless, has been a triumph.
Certainly there was a lot of room for improvement. At one point, in the late eighties, as gangs and crack cocaine laid waste to families and swallowed city blocks of leafy neighborhoods like Prospect Heights whole within a matter of months, there were more than 50,000 children in a foster-care system so tapped out it had run out of beds. Today, the number stands at just 12,500. But many New Yorkers hear ACS and still think about the system's high-profile failures: Nixzmary Brown, the 7-year-old who was found dead in 2006 after being tortured by her mother and stepfather, or Marchella Pierce, the 4-year-old who was starved to death in 2010 by her mother. (ACS workers have just agreed to plead guilty to misdemeanors in the Pierce case.)
City officials acknowledge that the history of foster care in New York has sometimes been dark. "There have been a lot of deep-seated issues in foster care in the city that have been around for a really long time," ACS commissioner Ronald Richter said in an interview this spring. "We've decided that we would take advantage of a movement across the country to really invest in practices that have a record of working."
Of course, the idea of having parentless children live with their extended family is as old as humanity itself. But it has been largely missing from child welfare policies — children who didn't have a suitable home with their parents or grandparents tended to be farmed out to group homes or the care of strangers. For the first time, experts say, agencies like ACS are committed to looking beyond a child's closest relatives to identify dozens of extended family members, sometimes even mentors and teachers, who may be better able to give a child a home. Some experts say family finding is especially effective when working with children whose network of relatives is large and complicated — as is the case in many poor families.
"There was a time when we didn't work with families at all," Altman of JCCA said. "The general attitude was that we can raise children better than these families can."
Case workers are now spending hours interviewing children and their parents, mining them for the names of relatives who may be able to step in. "We tell our caseworkers, 'You're going to be a detective. You're going to go back, way back when, and you're going to find out who has been an important part of this child's life,'" said Tess Mahnken-Weatherspoon, a practice leader of family finding at Hillside Family of Agencies in Rochester, New York.
On many birthdays, Cameron's maternal grandmother would feign interest in celebrating the day, but then never follow through. Foster-care workers at her agency, the Jewish Child Care Association, describe her as "fragile." Pierce Johnson, a stoic black man with kind eyes, has worked as a JCCA case planner for over two decades. But Cameron's story, he says, got to him. "Leaving her, I would still see that little face and I knew she had no one," he said.
But then, last year, Cameron's father appeared for the first time. Johnson, who had just been trained in family finding, pounced. "I started drilling dad, 'I need names, I need names,'" he says. "He got a list of his family members for me. He kept saying, 'My family is supportive, they want to do this.'" A month later, Cameron's father was gone.
Johnson started making phone calls to his side of the family, something no agency had tried before. Then he called Cameron's aunt and uncle and hit the jackpot. It turned out that Shanta, Cameron's aunt, had been waiting for the call for a decade. "I've been looking for her for ten years," Shanta says. "She was always supposed to be with me."
Family finding as an official public policy was the innovation of Kevin Campbell, a former case worker from Washington State who became disturbed by the bleak outcomes he saw for children who "aged out" of the system, industry speak for kids who become adults without finding a permanent home. "Too many of the young people we were working with were going on to lead very troubling lives. It brought me to a personal crisis," said Campbell, who went on to found the Center for Family Finding and Youth Connectedness in California's Bay Area. "So I looked for another approach."
He found inspiration in an unlikely place: the International Red Cross, which has used a similar strategy to help reunite refugees with family members after wars and other crises for generations. It wasn't long before Campbell discovered the technique could be used to help children in foster care as well. And in many cases, he says, the people he finds have been searching for children for years only to discover that they have been living in foster care. Still others have no idea the child exists at all. "I was shocked," he said. "I began to realize that we have thousands of children in this country with relatives that don't have any idea they have family in this system."
And now Cameron, a shy 14-year-old with cherubic cheeks and dark brown eyes, may finally be on her way home. The teenager is spending more and more weekends at the home of her aunt, who says she's committed to bringing Cameron home for good. "She's with her family, where she needs to be, with the people she needs to know, where she is loved. She has family," Shanta says. "And we have her back. And that's the way it's supposed to be."