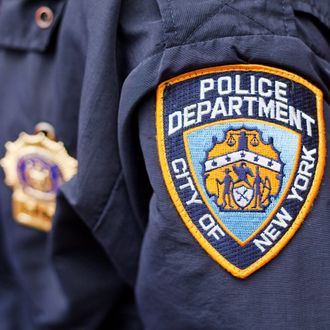 You might not hear about Albanian crime families as frequently as the other guys, but they're out there: 34-year-old NYPD officer Besnik Llakatura was arrested on Tuesday for demanding $6,000 from an Astoria restaurant owner on behalf of the Albanian mafia in exchange for the right to operate in "their" neighborhood. Two members of the aforementioned mob, 33-year-old Denis Nikolla and 37-year-old Redniel Dervishaj, were also arrested for the shakedown, which earned them a total of $24,000 over a five-month period.
WABC reports that the trouble started soon after the restaurateur, who is also Albanian, opened his business. After Dervishaj paid an initial visit to the restaurant to not so politely request a "protection fee," the victim asked for help from Llakatura, with whom he was friends. Unfortunately, the cop was in on the scheme and told the guy to pony up the money, and at some point brandished a gun. Llakatura told his supposed pal that "these people [run] Astoria" and warned him not to contact the police "because if you do, you're done." So instead, he went to the FBI (which provided marked bills to make the payoffs), and now it seems that Llakatura is the done one. 
All three of the men have been charged with extortion, and investigators say they have evidence that the group had done similar things to other area business owners. (Dervishaj and Nikolla have previously been arrested for burglary and promoting prostitution, respectively, as well as past extortion incidents.) "The defendants told their victims they offered 'protection,' but in reality they peddled fear and intimidation through the Albanian community, their community, of Queens," said United States Attorney Loretta Lynch. Nikolla has actually been identified as a Brooklyn resident, and Llakatura was taken into custody at his home in Staten Island, but these things are always bigger than mere boroughs.