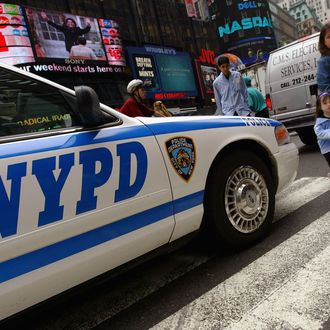 One of the NYPD's current dumb cars.
Photo: Spencer Platt/2004 Getty Images
On Thursday, the NYPD announced that a prototype of a "smart" Ford hybrid squad car has been part of its fleet for about a year. The cruiser, which is based out of Brooklyn Heights'$2 84th Precinct and usually assigned to areas like the Manhattan and Brooklyn Bridges, is one of the high-tech initiatives recommended to the department by consulting firm McKinsey & Co. Here are some of the vehicle's features, listed from "appropriate" to "paranoia-inducing," in ascending order: The ability to send information to databases at NYPD headquarters in real time, trunk-mounted scanners that read and store any license plate or address numbers they see (a spokesman said they can pick up "hundreds" of digits in minutes), and censors to detect increased radiation.
While some other police cars are already outfitted with some of that technology, no other vehicle has them all. NYPD Project Management Office head Brandon del Pozo told The Wall Street Journal that future versions of the little Ford "might include fingerprint scanners and facial recognition sensors." Incoming police commissioner Bill Bratton will be the one who decides whether the department's budget has room for the creation of more of these all-knowing, all-seeing cruisers.