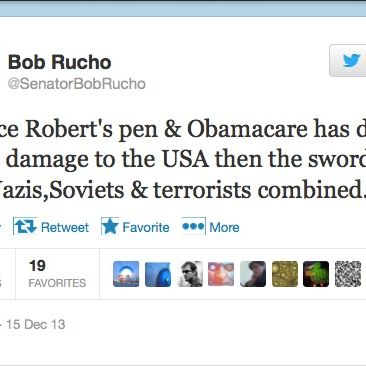 Many politicians have likened Obamacare to Nazi Germany, while others argue it's more like 9/11. Obviously, both of these comparisons are absolutely ridiculous. The law that attempts to ensure that all Americans have health insurance is actually worse than the atrocities committed by Nazis, Soviets, and terrorists combined.
After North Carolina State Senator Bob Rucho's Sunday morning Obamacare musings provoked some angry replies on Twitter, he added:
This is Rucho's most controversial tweet to date, though not for lack of trying. Since joining the site in October, Rucho has asked what the president is "smoking" and marked the 50th anniversary of Kennedy's assassination by declaring "JFK could have been the founder and leader of the Tea Party. The real democrat party has been hijacked."
Today's comment is an impressive effort, but in the future we'd like to see some more disgusting imagery in his inflammatory tweets, maybe like Maine Governor Paul LePage's gross Vaseline insult. Bonus points for the then/than mix-up, though.