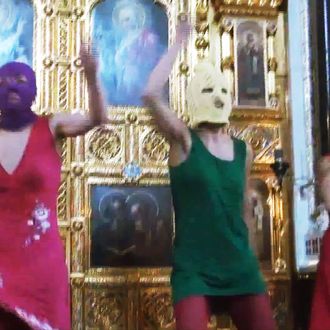 International punk icons Pussy Riot could be released from prison early under a new amnesty bill — proposed by Vladimir Putin — to celebrate the anniversary of Russia's 1993 constitution. See? Not totalitarian-ish at all! The new rule would reportedly apply to those jailed for hooliganism, as well as mothers of young children who haven't been convicted of violence, both of which apply to Pussy Riot's Nadezhda Tolokonnikova and Maria Alekhina, who were both sentenced to two years for their musical protests. But the pro-Putin parliament must first pass the bill.
Tolokonnikova's family confirmed the rumors to the Voice Project. "It's from the Kremlin and official already, they will be freed," said Pyotr Verzilov, her husband. But he warned, "We do not know yet when this will happen, because it is unclear when the bill will be voted by the Duma and how fast it will be applied to prisons – could be from 2 weeks to 2 months until they are freed."
"I very much hope so," Tolokonnikova's attorney told Reuters when asked if her client will be free by the New Year, a few months prior to her scheduled March release. "If the prison authorities drag this out, we will take measures." You can almost hear the worldwide reunion tour — and Putin's regretful grunts — now.