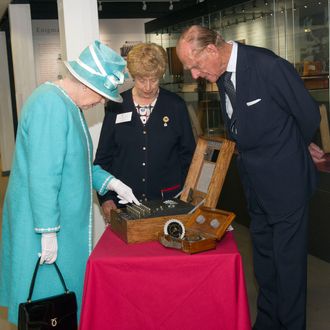 The Queen views an Enigma machine at Bletchley Park in 2011.
Photo: WPA Pool/2011 Getty Images
Benedict Cumberbatch's Alan Turing biopic just got a slightly happier ending. On Monday, Queen Elizabeth II pardoned the father of modern computing for his 1952 homosexuality conviction. Turing, who helped crack the Nazi's "Enigma" code, was found guilty of "gross indecency," and faced prison or probation with a year of mandatory estrogen injections to reduce his sex drive. He chose what was essentially chemical castration, lost his security clearance due to the conviction, and committed suicide two years later. The "royal prerogative of mercy" has only been issued three times since 1945, in cases involving men wrongly accused of murder. While Turing was guilty of what was a crime at the time, a justice minister said he was being pardoned for "a sentence we would now consider unjust and discriminatory." Advocates welcomed the news, but said the other 75,000 men convicted under the law should be pardoned as well.