If you've been busy beating Candy Crush Saga lately, you may not have heard about QuizUp. The iPhone trivia game is only three weeks old, after all. But it's already become the fastest-growing mobile game in history. It has 3.5 million registered users, has stayed near the top of the App Store's games category since launch, and signed up its millionth user on its eighth day of existence. (By comparison, it took Draw Something, the hot app of 2012, whose creator, OMGPop, sold to Zynga for $183 million, nine days to do the same thing.)

QuizUp's other stats are off the charts, too — the average QuizUp player, for example, plays the game for 40 minutes a day, which is one reason it recently got $1.2 million in venture funding. It's all pretty impressive for a game that even its maker, Icelandic software company Plain Vanilla Games, admits is an absurdly basic idea: players competing against their friends and strangers around the world in trivia categories like Arrested Development and Fruits & Vegetables. But there's a complex science behind the simple premise; if it were that easy to make a mobile app go viral, after all, everyone would do it.

I spoke to Plain Vanilla CEO Thor Fridriksson about the secrets to creating a huge hit, the lessons he learned from other successful games, and how he almost went broke along the way.
Don't start from scratch.
The first secret to making a hit game, Fridriksson told me over a Skype chat from his Iceland office, is latching onto an existing brand. He learned this the hard way: Plain Vanilla's first game was an original game for preschool kids called The Moogies. It was a "beautiful title," Fridriksson says, but it got steamrolled in the App Store by a Dora the Explorer game that was published around the same time. Fridriksson lost almost all his money on The Moogies.
"It was just a total failure. No one was buying it," he says.
As their next act, Fridriksson and his colleagues spent days thinking about games that already existed in analog form, but hadn't been ported to mobile in the right way. Scrabble was already taken (Words With Friends), as was Pictionary (Draw Something), but there was no dominant mobile version of Trivial Pursuit. And while Trivial Pursuit had an official app, it was basically just a digitized version of the physical board game. He thought he could do better.

Keep it simple.
Part of QuizUp's viral appeal is its simplicity. To begin playing, you register using Facebook, and right away, you're given a list of categories to choose from. Once you choose, you're given a series of multiple-choice questions, and the player who gets the most answers right wins. As you play more against other users, you gain XP, and you move up a leaderboard against both your Facebook friends and global, local, country-by-country, and state-by-state lists. The interface itself is perfectly intuitive for anyone who's ever watched Who Wants to Be a Millionaire? or gone to a pub quiz night. When I tested it out, I went from downloading the app to playing my first game within a minute.

"Having gameplay that's familiar to you is a huge advantage, because you can get right into the game," Fridriksson says. "We don't have an onboarding mechanism. You just start."
Keep adding.
Good mobile games, Fridrikkson says, are ones that don't sit still. QuizUp already has more than 200,000 trivia questions, with new ones being added daily as users submit their own questions for addition to the game. These added questions don't require users to download an app update – they're just there in the game automatically, waiting to be answered. "You have to be able to constantly refresh content," Fridrikkson says. "You have to make it easy to update, so it's not just one game, but it's more of a platform. It was kind of hard for Draw Something to add content, because of the nature of the game. But with trivia, there's such an endless amount of content."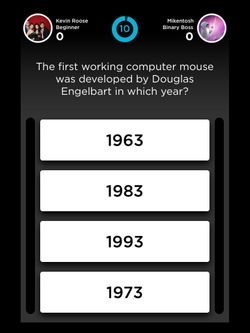 Tap into obsessions.
QuizUp allows players to compete in the kinds of categories you might expect — I chose tech, for example — but it also has more arcane topics like "Neil Gaiman" and  "Herbs & Spices." This is by design, Fridriksson says. "We wanted to have our topics hyper-specific. People don't get passionate about really broad categories. 'I'm a passionate entertainment fan' — nobody says that. But people get passionate about a specific band, or a movie, or World War II."
Cater to show-offs.
What Fridrikkson liked about trivia, in part, was that it was "a bit about showing off." Plain Vanilla found that after beating their friends, QuizUp users liked posting their scores to Twitter and Facebook using the app's share function. This, in turn, brought in more users. "We found that people are not using the in-game invite system," says Fridrikkson. "Most of the new players are coming through Facebook and Twitter shares. They're proud of being No. 1 in their state in botany, or something."
Don't manipulate.
Mobile-game design is all about psychological manipulation. Candy Crush Saga, for example, baits players by making them wait 24 hours for a new influx of free lives, and telling them that the only way to keep playing immediately is to pay for new lives or ask their Facebook friends for help. This is what game designers call "pain avoidance," and it's helped games like Candy Crush Saga become hugely profitable. QuizUp, though, doesn't have any stealth mechanisms for forcing you to pay, and it doesn't require you to do anything with your Facebook friends. It just makes it as easy and addictive as possible to play, and the nature of the game means that people want to invite their friends organically. "Candy Crush is a good example of what I call forced virality," Fridriksson says. "You get to a level, it's addicting, but in order to continue you need to share it or ask your friends for help. We are trying to do the exact opposite. We don't really reward people at all for sharing."
Make it a little clubby.
Right now, QuizUp is only available for iOS. (An Android version is coming in January.) Normally, this would be a disaster for an app experiencing viral growth, but Fridriksson thinks it's actually helped the game. "It's made it a kind of status symbol," he says. "If there's one person in a school or university who gets the game, there are twenty the next day, and the next day, everyone who has an iPhone has it."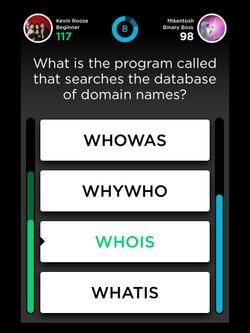 Be brand-friendly.
While QuizUp gives players the ability to purchase more XP to level up faster, in-app purchases aren't the game's main money-maker. Instead, Plain Vanilla has partnered with brands like the Twilight movie franchise to create sponsored games. Fridriksson calls this a "win-win," since Twilight gets massive exposure to millions of players, and avid fans of the movie get to show off their obsessive knowledge. Fridriksson says that this strategy, and its huge money-making potential, is part of what's made mega-game-makers like King and Zynga take note of QuizUp.

Go social.
While I was talking to Fridriksson about QuizUp's growth, he would often refer to it as a "social network." This sounded like marketing fluff to me; every app wants to be a social network, after all. But when I poked around the game, I found that even in three weeks, there is a sort of community developing inside QuizUp. Each category has its own message board — so, for example, if you want to discuss Buffy the Vampire Slayer with fellow fans after playing the game, you can. Not all of these boards are illuminating. One board, for the Logos category, was filled with vulgar posts like "Any girls wanna Kik message me" (posted by user HOT SLUTS ONLY) and "Y'all suck dik."
Fridriksson admits that, as of now, some of the discussions on the app are "just noise." But he says that within certain topics, like Physics, the company is actually seeing "really intellectual discussions." "We're making a micro social network," he repeated.

When you have a hit, stop doing everything else.

Mobile-game-makers talk fearfully about the "Draw Something effect," the name given to any app that experiences an insanely fast growth rate, then become passé once users have moved on to the next big app. Some studios, like Zynga (which bought Draw Something weeks before it fell off a cliff, making it maybe the worst-timed tech acquisition in history), deal with the threat of obsolescence by releasing sequels, or rushing lots of similar games onto the market to try to keep users' attention.
Fridriksson is aware that QuizUp's popularity might not last. But he's not taking the diversification approach. His 30-employee studio is now entirely focused on QuizUp, and all other projects have been abandoned. "We've evolved from being a game studio that has multiple titles into just being QuizUp," he says.
Though he's hopeful that the game's social-network element and ever-changing content will keep users flooding in, Fridriksson is aware of the possibility that QuizUp might eventually go the way of Draw Something. Still, he says he's not looking to the next thing quite yet.

"It's every man's dream to have a hit product," he says. "Enjoy the ride."