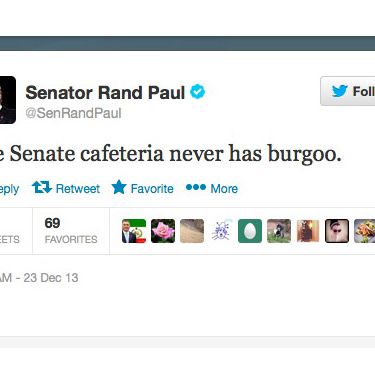 Rand Paul has a lot of problems with you people, and now you're going to hear about them. The Kentucky senator and presumed presidential hopeful may be a fan of Christmas, but, being hip and youthful and such, he nevertheless took to Twitter this morning to participate in the traditional Festivus "airing of grievances." Unlike Frank Costanza, he focused many of his grievances on the Fed.
(Here are some photos of Rand Paul wearing turtlenecks.)
Paul ended the grievances session with a shameless plea for Booker-generated clicks:
Booker responded with a Festivus challenge of his own:
At this point, Paul and Booker dropped the Festivus talk altogether and dove into drug policy:
You know what just happened, don't you?