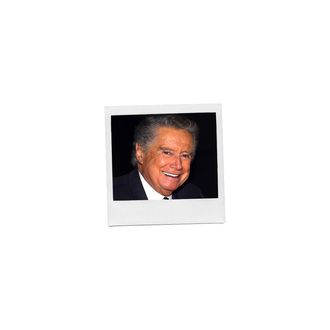 Photo: Larry Busacca/Getty Images
Name: Regis Philbin
Age: 82
Neighborhood: Upper West Side
Occupation: "TV Legend." You can catch him tonight alongside Lizz Winstead, comedian Michael Kosta, and author and pizza lover Scott Wiener at the comedy show Running Late With Scott Rogowsky, at 8:30 p.m. at Symphony Space. 
Who's your favorite New Yorker, living or dead, real or fictional?
Police Commissioner Ray Kelly.
What's the best meal you've eaten in New York?
Pasta Bolognese, at one of the great Italian restaurants we have here.
In one sentence, what do you actually do all day in your job?
I'm studying sports topics that will be discussed on my Fox Sports 1 show that evening.
What was your first job in New York?
NBC page for the Steve Allen Tonight Show, when it started.
What's the last thing you saw on Broadway?
Billy Crystal's 700 Sundays. He was phenomenal.
Do you give money to panhandlers?
Yes.
What's your drink?
I love a Cosmo, but only the ones at Valbella in Greenwich.
How often do you prepare your own meals?
I can make a sandwich, a bowl of cereal, and cut an apple. Thank God for Joy.
What's your favorite medication?
Ambien … was. But I finally kicked it.
What's hanging above your sofa?
A couple of pictures we've been trying to replace for years.
How much is too much to spend on a haircut?
Whatever they're asking for.
When's bedtime?
11:30 p.m. I watch Letterman until he puts me to sleep.
Which do you prefer, the old Times Square or the new Times Square?
The old Times Square. The new Times Square is in chaos.
What do you think of Donald Trump?
There's nobody like Trump. He's a controversial guy, but he's done an awful lot for New York City.
What do you hate most about living in New York?
The traffic here is madness.
Who is your mortal enemy?
The people who keep reducing the traffic lanes, and the people walking and texting and not looking where they're going.
When's the last time you drove a car?
Last Sunday night.
How has the Wall Street crash affected you?
I'm still recovering … slowly.
Times, Post, or Daily News? 
All of them.
Where do you go to be alone?
My bathroom.
What makes someone a New Yorker?
Their patience, and their determination to live here and enjoy it.