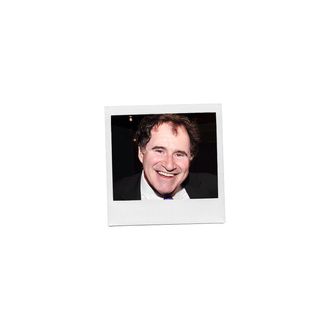 Photo: Stephen Lovekin/Getty Images
Name:  Richard Kind
Age: "Because my children are 11, 9, and 9, I am forced to be 32."
Neighborhood: Upper West Side
Occupation: Actor. Next Monday, December 16, he'll be performing alongside Patrick Wilson, America Ferrera, Christian Borle, and many more in a one-night-only performance of Tumacho, a play with music directed by Tony Award winner Pam MacKinnon, as a benefit for Clubbed Thumb. Snag a ticket here.
Who's your favorite New Yorker, living or dead, real or fictional?
On a bad day, Alvy Singer. On a good day, Travis Bickle.
What's the best meal you've eaten in New York?
The best is Il Mulino, on my 40th birthday, with my dad when he was still alive. But I thank them not to keep expanding: It's a New York restaurant that should be kept in New York. The second is Peter Luger, on my 50th birthday.
In one sentence, what do you actually do all day in your job?
Look for work.
What was your first job in New York?
Right out of college I was a waiter at the Saloon, which was right across from Lincoln Center. Servers were on roller skates, but I wasn't on roller skates. I said, "I would prefer to keep the food on the plate and not on their lap." That restaurant is now a Bed Bath & Beyond and a Lululemon.
What's the last thing you saw on Broadway?
A Gentleman's Guide to Love and Murder. It's great. But I see absolutely everything on Broadway.
Do you give money to panhandlers?
Only to people who play instruments or dance, though they don't have to be doing it at that time.

What's your drink?
Seltzer water from the SodaStream.
How often do you prepare your own meals?
I make all the food for my kids. (Their mother doesn't know how to cook.) I make a spaghetti sauce that's so good it's ridiculous. The key is honey.
What's your favorite medication?
Bacitracin.
What's hanging above your sofa?
My children.
How much is too much to spend on a haircut?
Anything I spend on a haircut is too much, because if I have to even shell out a dollar, it means I'm not working. I always get my hair cut on set.
When's bedtime?
Whenever Byron Allen comes on the air.
Which do you prefer, the old Times Square or the new Times Square?
I loved the old Times Square. I loved it in the way that we love bad accidents. I just loved walking down the street and getting scared, and worrying that the hookers would approach me and the drug dealers would approach me. And yet it was so busy that you were able to take a walk on the wild side knowing you were never in danger.
What do you think of Donald Trump?
I think that his golf courses are better manicured than his head.
What do you hate most about living in New York?
It's not what I hate now, it's that I hate what New York is becoming. The streets are becoming too homogeneous to any town. We have to keep individual ownership of stores.
Who is your mortal enemy?
Steve.
When's the last time you drove a car?
Thanksgiving. I'm a big driver. I have my car in the city from March until October, because I go golfing. The rest of the time I keep it at my sister's house out in the suburbs.
How has the Wall Street crash affected you?
I have a question: Since when has Wall Street crashed? It hasn't affected the haves of this city at all, it's only put more money in their pockets. The economy affects me, but I'm not one of those people that has to worry about the employment rate. I can't afford to feed my kids, but that's because I live in New York City.
Times, Post, or Daily News?
The Times to read, and the Post and the Daily News to pick up after my dog. I read The New Yorker to find out how I think.
Where do you go to be alone?
Dave and Buster's.
What makes someone a New Yorker?
The ability to transfer trains at 42nd street.