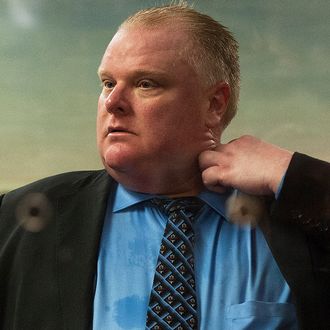 Photo: Aaron Vincent Elkaim/Getty Images
Since he was stripped of all his powers last month, Toronto Mayor Rob Ford has continued to delight the Internet with a series of harmless but amusing gaffes, such as stealing some guy's seat at a football game and cursing in front of a bunch of kids. In case you've forgotten that the allegations that made Ford a national embarrassment were pretty serious, Toronto police provided a refresher on Wednesday, releasing previously redacted portions of a 474-page affidavit. The document includes new revelations about Ford allegedly doing heroin, hanging out with gang members, losing his phone in a crack house, and attempting to buy a video of himself doing drugs.
According to the Toronto Star, the document explains that the investigation into Ford's drug-fueled antics started when his name kept popping up on wiretaps of members of the Dixon City Bloods, a Toronto gang. While Ford only admitted that he "tried" crack in a "drunken stupor," in phone conversations gang members make numerous references to the mayor's drug habit. "The mayor of the city, Rob Ford, was smoking his rocks today," says one gang member. Another brags on the wiretap that he has "so much pictures of Rob Ford doing the hezza," slang for heroin.
In March, two months before Gawker and the Toronto Star revealed the existence of the Rob Ford crack video, two of the alleged drug dealers were heard discussing their plan to sell the tape. One recalled that Ford had offered to buy it, saying, "he said I'll give you five thousand and a car. What the f— is that?" The men suggested they'd go back to Ford and ask for $100,000 or $150,000.
While it appears Ford seriously underestimated the value of his crack video, the gang members were clearly aware that evidence of his drug use could be very profitable (though one of them notes that they all "love and respect Rob Ford"). Conversations intercepted by police on April 20 suggest Ford was doing drugs in a known crack house. A man tells his friend, who's partying with Ford, to "take a picture of that because of what it would be worth."
The next day Alexander Lisi, Ford's driver and friend, is heard saying that the mayor is "freaking out" because he lost his phone at the party. "Lisi threatened that if he did not get the phone back that the Mayor would put heat on Dixon," says a police summary. It appears Lisi arranged to meet one of the suspected drug dealers at a doughnut shop and offered him "spliffs" in exchange for Ford's phone.
It's unclear if Ford ever paid for a copy of the crack video, which police recovered from a computer hard drive in October. Lisi has been charged with drug-trafficking and extortion related to his efforts to obtain the footage. Ford isn't on the wiretaps and hasn't been charged.
If you prefer your Rob Ford stories a bit lighter, on Thursday he'll appear on a D.C. radio show called The Sports Junkies.