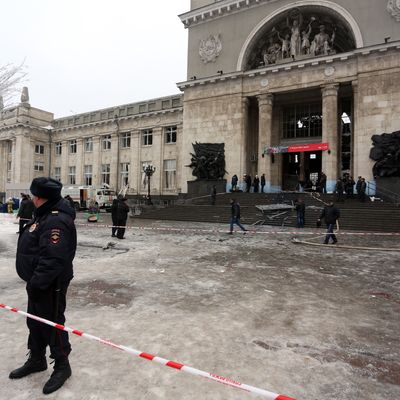 Russian security forces stand guard outside the train station in Volgograd on Sunday.
Photo: STRINGER/AFP/Getty Images
At least 27 people are dead after two bombings in Volgograd, the Russian city formerly known as Stalingrad. On Sunday afternoon, a suicide bomber attacked a crowded railroad station, killing seventeen people and wounding nearly three dozen others. Early Monday morning, there was another blast on a trolley bus, which killed ten people. Volgograd is about 400 miles northeast of Sochi, and the attacks have raised concerns about security at the Winter Olympics, which start in six weeks. 
Russian authorities have been planning extensive security precautions for the Games, especially since Chechen rebel leader Doku Umarov vowed over the summer to attack in Sochi. No group has claimed responsibility for the bombings, and there are conflicting reports about the suspects. According to the New York Times, "never before has an Olympic host country experienced terrorist violence on this scale soon before the Games."