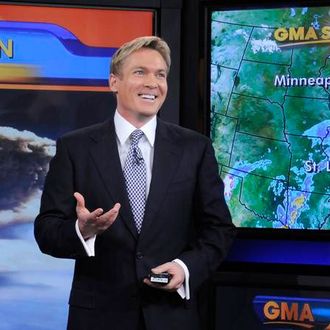 GOOD MORNING AMERICA - SAM CHAMPION (ABC/Ida Mae Astute)
Photo: Ida Mae Astute/?2011 American Broadcasting Companies, Inc. All rights reserved.
This Wednesday, Good Morning America's weatherman of seven years is leaving to be with his own kind. Starting in early 2014, Champion will serve as managing editor of the Weather Channel, where he will also anchor a multi-hour morning show, according to press releases from ABC and the all-weather-all-the-time network. While his new venture's ratings are unlikely to threaten those of his current employer, which recently became the most-watched show among the nation's early risers, he sounds excited about the future. "It's a dream job for a weather junkie like me," Champion told TV Newser. Meanwhile, ABC News meteorologist Ginger Zee will take his place at GMA.