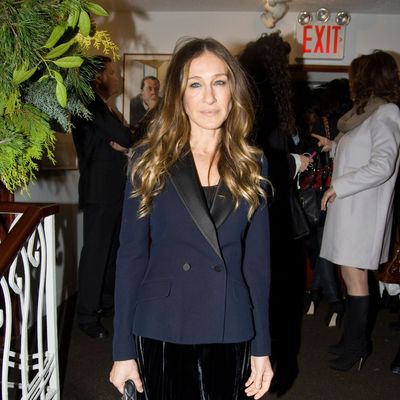 Sarah Jessica Parker.
Photo: Jonathon Ziegler/Patrick McMullan
Although Sarah Jessica Parker finally joined Twitter last month, she was not among the high-powered politicians, performers, and media magnates live-Tweeting about Joanna Coles's jokes, Senator Kirsten Gillibrand's birthday, and fabulous tablemates during yesterday's Cosmo 100 luncheon at Michael's.
"I wouldn't say I'm practiced, skilled, or very good at [Twitter], and I have a very conflicted relationship with it," said Parker, adding that she joined, like so many creative professionals, because she wanted to promote her work. "To be honest, I mostly did it because I was proud of the documentary series on the New York City Ballet. It's a subject matter that isn't naturally something people respond to, because that particular discipline can be intimidating, and everybody convinced me that the value of social media is sharing that kind of information with a larger group — I mean, short of me standing on a street corner, you know, circa 1930."
Though we did learn about the ballet docudrama series from SJP's Twitter feed, we have also learned other fun facts. The actress has a penchant for photographing abandoned objects, for example, and even more surprising was the revelation that she regularly rides the subway. "It's the only way I travel, with my MetroCard," she told us. We asked whether she has a lot of interactions with fans on the train.
"No, I read on the subway," she said. "It's my favorite part of the subway, is reading. For me, because I work in midtown, it's perfect. The train for rehearsal will drop me outside the studio. I can't imagine another means."
But actually, she can. "I mean, if I had more time, I would take the Fifth Avenue bus downtown," she said. "But that's, like, for a lady of leisure." One can dream.