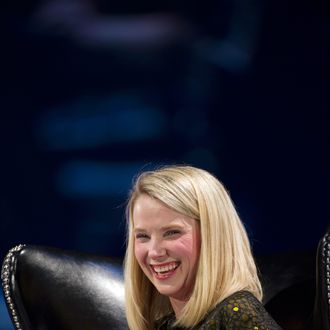 Party at her place.
Photo: David Paul Morris/Bloomberg via Getty Images
In ye olden days, before the financial crisis made Wall Street banks scared to do anything that looked like fun, big banks were known for their amazing holiday parties. Goldman Sachs hired Bette Midler and Harry Connick Jr.; Morgan Stanley took over exclusive clubs; and J.P. Morgan brought in a circus full of performers.
That all ended in 2008 and hasn't come back. (Goldman Sachs and J.P. Morgan aren't having firmwide holiday parties this year, according to our tipsters.) But all those ice sculptures and B-list entertainers had to go somewhere for the holidays. So they've migrated west, to Silicon Valley, where tech companies are now having holiday parties that make Wall Street's earlier efforts look like cut-rate bar mitzvahs.
Yahoo rented out Pier 48 in San Francisco to host a massive, all-company party featuring larger-than-life gingerbread men, a speech from Marissa Mayer, and a performance by the Counting Crows.
Facebook took over the Bill Graham Civic Center, decked it out in Zuckerberg Blue, and got its drink on.
There were also mashed potatoes, apparently.
Another Facebook party, apparently held in Austin, Texas, featured an appearance by a dance troupe called the "GoGo Gadgettes."
LinkedIn's party had its own hashtag. The grown-up social network rented out the Exploratorium for #CluedIn2013, a murder-mystery-themed party that featured sushi, a dance performance, a "liquid nitrogen ice cream demo," and people drinking out of toilets.
Google's L.A. party had a Marilyn Monroe impersonator, and (another?) Google party, held at the San Francisco Design Center, featured an "It's a Small World" theme, according to one guest, with "every floor, and even section of a floor … devoted to a different culture and cuisine. There was Japanese, Indian, Vietnamese, American, etc. … not only was the food different but so were the decorations and the entertainers. There were fortune tellers, belly dancers, break-dancers, the works." There was also the requisite photo booth.
In all, it looks like Silicon Valley is picking up Wall Street's slack in the morale-boosting Christmastime frivolities department. Good news for dancers, singers, and ice carvers everywhere. Happy holidays, new Gilded Age barons, and may your bubbles be ever inflated.