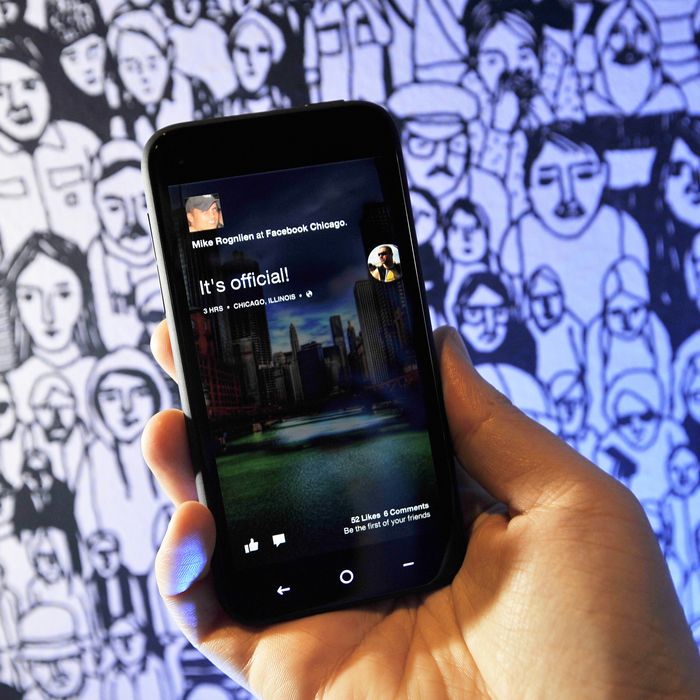 A Facebook employee holds an HTC phone in front of a wall at Facebook's headquarters in Menlo Park, California.
Photo: Josh Edelson/AFP/Getty Images
If NSA employees were bummed that President Obama hasn't paid them a visit, they're going to be devastated to learn that all their favorite tech companies are publicly calling them out. Eight companies – Google, Facebook, Apple, Microsoft, Twitter, Yahoo, LinkedIn and AOL – have put aside their rivalries and issued a call for the reform of government surveillance. "We understand that governments have a duty to protect their citizens. But this summer's revelations highlighted the urgent need to reform government surveillance practices worldwide," says an open letter featured in full-page ads in several newspaper on Monday. "The balance in many countries has tipped too far in favor of the state and away from the rights of the individual — rights that are enshrined in our Constitution. This undermines the freedoms we all cherish."
The accompanying website includes a shorter version of the letter addressed to the president and Congress, a quote from a top executive at each company (except Apple, whose logo is also missing from the top of the page for some reason), and five principles for reform. These include governments doing away with bulk data collection, operating under a "clear legal framework," and allowing companies to make public "the number and nature of government demands for user information." 
Tech companies started pushing back against the idea that they willingly handed over users' data to the NSA almost immediately after Edward Snowden's first leak was published. While they've called for greater transparency and said they plan to increase encryption to thwart government data collection, this is the first time they've banded together and called for significant changes to the way the U.S. and its allies conduct surveillance.
While companies explained in accompanying statements that they're "committed to defending and protecting the voice of our users," and believe the "US government should take this opportunity to lead this reform effort and make things right," Microsoft made it clear that this is a business concern too. "People won't use technology they don't trust," said Brad Smith, Microsoft's general counsel and executive vice president, legal and corporate affairs. "Governments have put this trust at risk, and governments need to help restore it."