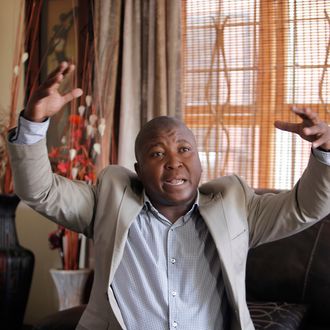 Jantjie.
Photo: Tsvangirayi Mukwazhi/AP/Corbis
Yesterday, Thamsanqa Jantjie — the fake-sign-language interpreter who somehow managed to score a gig signing at Nelson Mandela's memorial service — told reporters that he is schizophrenic, and that he hallucinated angels while onstage at the ceremony. Much more disturbingly, he also said that he becomes "violent" "a lot" when his mental illness flares up. Now, a report from South Africa's eNCA confirms that Jantjie's history of violence is quite real:
eNCA's investigations have found that Thamsanqa Jantjie, who is being treated for schizophrenia, has also faced rape (1994), theft (1995), housebreaking (1997), malicious damage to property (1998), murder, attempted murder and kidnapping (2003) charges.  

Many of the charges brought against him were dropped, allegedly because he was mentally unfit to stand trial.
Jantjie was acquitted of rape, though he was sentenced to three years in prison over the theft conviction. (It's not clear if he actually served time.) Meanwhile, eNCA reports the 2003 murder, attempted murder, and kidnapping incident was referred to a high court and "finalised in November 2006, but the court file for the case is empty." The news organization points out that it was able to obtain all this information within two days of Jantjie's now infamous appearance just feet away from President Obama, U.N. Secretary General Ban Ki-moon, South African President Jacob Zuma, and other important people, which really does not make whoever was in charge of security at this event look very good. The South African government is still looking into how this happened.