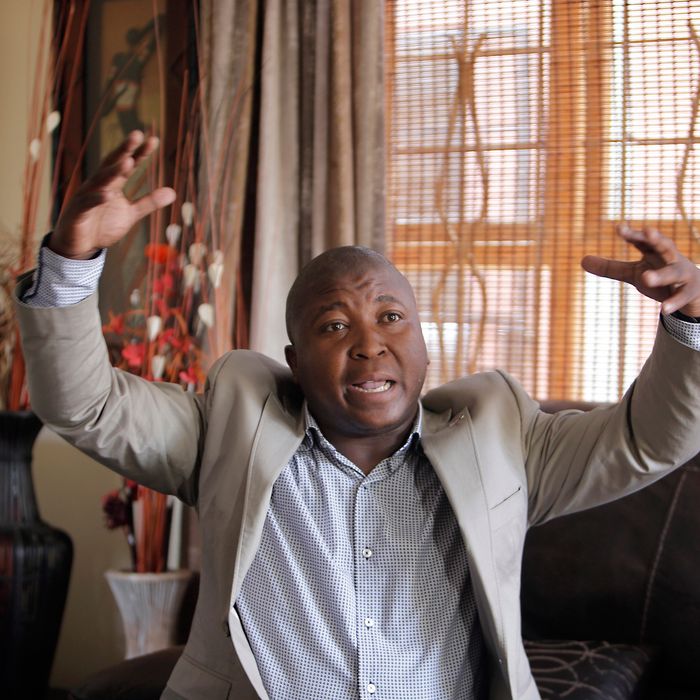 Thamsanqa Jantjie at home.
Photo: Tsvangirayi Mukwazhi/AP/Corbis
It's been two days since the beginning of the biggest fake-sign-language scandal in the history of man (we're assuming), and the episode is only getting more bizarre. Fake-Sign-Language Guy — who also goes by the name Thamsanqa Jantjie — claims that he is schizophrenic, and hallucinated angels and heard voices while signing for the Mandela funeral. Jantjie says that, under the circumstances, he was just trying not to make a scene:
>
"

I was in a very difficult position," he added. "And remember those people, the president and everyone, they were armed, there was armed police around me. If I start panicking I'll start being a problem. I have to deal with this in a manner so that I mustn't embarrass my

country."
… it's still not clear whether Jantjie actually, you know, knows how to sign. Jantjie claimed in a radio interview that he has interpreted at numerous events without complaint:
But Jantjie's employment situation is murky. He apparently works for a company called SA Interpreters, but the AP couldn't find any trace of its existence: 
AP journalists who visited the address of the company that Jantjie provided found a different company there where managers said they knew nothing about SA Interpreters. A woman answered the phone at a number that Jantjie provided and said it was not for the company, and another phone number went to a voicemail that did not identify the person or company with the number.
The South African news outlet eNCA is also reporting that Jantjie was under investigation for "making fake claims for interpretation work that he hadn't done," to the tune of 1.5 million rands, or approximately $144,655. 
Perhaps the most pressing question of all, though, is why and how Jantjie, who not only has questionable signing abilities, but also acknowledges that he gets "violent" "a lot" during his schizophrenic episodes, was chosen to stand a couple of feet from President Obama and other world leaders at an event of such magnitude. Presumably there is at least one other person who knows sign language in South Africa?