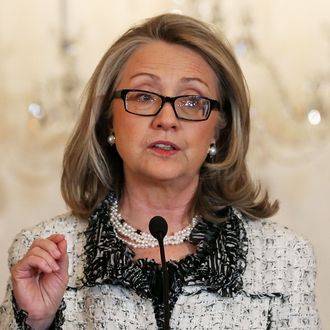 Photo: Mark Wilson/Getty Images
Over the weekend, the New York Times published a long article about the circumstances surrounding the 2012 attack on the American consulate in Benghazi. The takeaway was that the incident was at least partially fueled by anger over the Islamophobic Innocence of Muslims YouTube video, and that Al Qaeda was not directly involved in the assault. Because the Times' account supports much of the Obama administration's description of the event in its immediate aftermath, Republicans who maintain that Al Qaeda planned the attack (and that the White House covered that up) went on television to defend their position, and to add another layer to the ever-growing Benghazi conspiracy theory.
During his Fox News Sunday appearance, Representative Mike Rogers accused the Times of trying to "clear the deck" for a potential Hillary Clinton presidential run by supporting her handling of Benghazi as secretary of State. "I find the timing odd," he said. "I don't want to speculate on why they might do it." And so Times editorial page editor Andrew Rosenthal, who will "have more to say about which candidate we will endorse in 2016" than anyone else, responded with a piece insisting that, "We have not chosen Mrs. Clinton. We haven't chosen anyone." It must be comforting for Benghazi truth seekers to receive confirmation of how big and carefully orchestrated this thing really was.