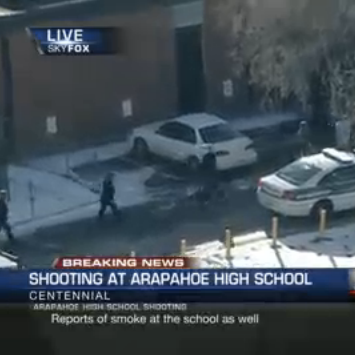 Two students have been reported injured in a shooting at Arapahoe High School in Littleton, Colorado. One of the victims — believed to be 15 or 16 years old — is at a local hospital with a "serious gunshot wound" and is undergoing surgery. Initial reports that a second person had been injured turned out to be false. Arapahoe County Sheriff Grayson Robinson has told reporters that the shooter, an Arapahoe student who was armed with a shotgun, killed himself inside the building. 
Robinson told reporters that the gunman entered the building at 12:23 p.m. local time and began searching for a teacher he identified by name: "The teacher began to understand that he was being looked at and exited the school. One student confronted the armed student and was shot." A janitor told Colorado's 7News that the armed student was dressed in "tactical gear": "It just looked weird," he said. "He went in and I heard two pops. That's when I knew. I said, 'They are shooting in the school.'"
This post has been updated throughout.