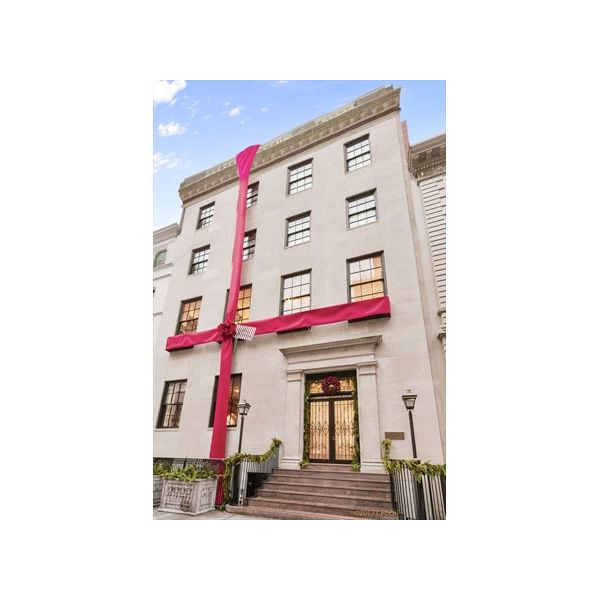 A nineteen-room Upper East Side mansion is pushing Manhattan townhouse values past the nine-digit threshold by entering the market with the very precise asking price of $114.077 million, a potential record if met. Modeled in part on the Palace of Versailles, it has 40 feet of frontage, tall ceilings (reaching as high as 32 feet in some rooms), a 2,000-square-foot roof deck, a screening room based on a "red velvet movie theater that once thrived in Queens," and swimming pool.
The sellers, Teresa Viola, who owns Maida Vale Designs, and Vincent Viola, chairperson and CEO of an electronic trading firm, bought it in 2005 for $20 million. They're reportedly swapping the city for Florida, in part because Vincent Viola bought the Florida Panthers, an NHL hockey team, last September and, according to the New York Times, "plans to be as involved in rebuilding his team as his spouse was in reconfiguring their mansion."
So is the price a serious reach? "In the world of trophy properties, some connect and some don't, but I wouldn't be surprised," says Jonathan Miller, who owns the appraisal firm Miller Samuel. He says he saw the 20,000-square-foot house long ago, and the square footage is impressive. But the price equates to "a little over $5700 per square foot, which would be, if they get it, a big number." (Brokers Paul Anand and Gabriella Dufwa of the Corcoran Group are handling the sale.)
The last few townhouse sales of this league got nowhere near this price, Miller says. The 50-foot-wide, 21,700-square-foot Harkness Mansion at 4 East 75th Street, which holds the highest price record as of this writing, fetched $53 million in 2006, but resold in August 2011 for  $36.5 million. 16 East 69th Street, which is smaller at 12,111 square feet and 33-feet-wide but is on the same block as 12 East 69th Street, sold for $48 million in 2011.
Still, "the market for trophy properties has really changed" since 2011, says Miller. "Demand has really accelerated."
For instance, billionaire Roman Abramovich is supposedly in contract for $75 million at 828 Fifth Avenue, also known as the Berwind Mansion, which is currently divided into a handful of co-ops.
The bottom line: "Anything is possible," says Miller. Stay tuned.