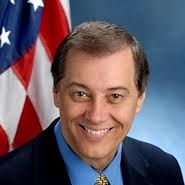 It looks like Vito Lopez's spring resignation from the New York State Assembly over multiple accusations of groping staffers was not enough to rid the legislative body of disgusting behavior: As first reported by the Albany Times Union, three twentysomething women who used to work for Dennis Gabryszak, a 62-year-old married assemblyman who represents the Buffalo area, have announced their intention to sue their old boss for sexual harassment. The list of his alleged offenses is long and very gross.
One former aide, Annalise Freling, said Gabryszak once told her, "I got a boner when I walked into the office today when I saw you." Freling also complained about Gabryszak's tendency to ask her to "retrieve information from his cellphone or iPad" where "she would find information about escort services or pictures of naked women," as well as the time he sent her a video "of him in a bathroom, either receiving or pretending to be receiving fellatio," according to the New York Post.
Freling eventually quit because of the harassment, and her replacement, Kimberly Snickles, was subjected to the same type of thing. Snickles said Gabryszak brought her to a massage during her first two weeks on the job, told her he was "more of a butt guy than a boobs guy," and talked about "a tattoo on his penis." A third Gabryszak alum, Jamie Campbell, said that the assemblyman "became upset if she declined his requests to socialize with him" and offered her a $100,000-a-year job to dump her fiancé and move to western New York. All three women said that they were made to listen to "stories of [Gabryszak's] escapades with prostitutes, strip clubs, affairs with assemblywomen and massages with 'happy endings'" and suggestions that they join him in his hotel room on work trips. Gabryszak's chief of staff, Adam Locher, is said to have repeatedly ignored their complaints.
And just in case that's not enough: The women's legal notice says that two more former employees plan to come forward with similar allegations. A spokesman for Assembly Speaker Sheldon Silver, who ponied up $103,080 in an attempt to quiet Lopez's accusers, says he is taking the matter "very seriously," so it seems that at least someone has already learned a lesson. Now it's Gabryszak's turn.