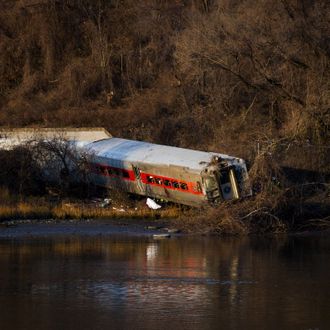 Photo: Christopher Gregory Images/Getty
Police on Sunday night publicly identified the four who died in the morning's Metro-North derailment, as Mayor Michael Bloomberg made his first appearance of the day, visiting those who had been injured. Rescue crews brought in cranes to hoist the overturned train cars that spilled off the track in the Bronx near Spuyten Duyvil, while the Metropolitan Transportation Authority announced alternatives for commuters who use the Hudson line, which is currently closed south of Yonkers. It's going to be a long week for all involved.
The victims identified Sunday night include Donna L. Smith, 54, of Newburgh; James G. Lovell, 58, of Cold Spring; James M. Ferrari, 59, of Montrose; and Ahn Kisook, 35, of Queens, according to the Associated Press. Lovell was a media consultant traveling from Cold Springs to help set up the Christmas tree at Rockefeller Center. Ahn was a nurse from Queens who spoke Korean, the Epoch Times reported. Smith, from Newburgh, was active in the Girl Scouts and her church, according to ABC New York.
Mayor Bloomberg caught some criticism on Sunday for not appearing with Governor Andrew Cuomo to speak about the crash. Later in the day, he visited the injured in St. Barnabas Hospital, in the Bronx, telling reporters there: "I'm not a professional firefighter or police officer. Nothing I can do. All I can do is make sure that the right people from New York City, our police commissioner, our fire commissioner and emergency management commissioner are there."
Of the more than 60 injured, eleven were in critical condition and another six seriously hurt, but Bloomberg told reporters that those eleven did not appear to have life-threatening injuries, according to the AP. Late on Sunday night, crews planned to use cranes to turn the toppled cars upright, "on the slight chance anyone might still be underneath," the AP reported. But it appears most have been accounted for.
For the rest of the commuters who rely on the Hudson line daily, the MTA's plan to get them into the city will involve some early rising. The authority recommended they use the Harlem and New Haven lines, which will honor Hudson line tickets. It will still run trains between Poughkeepsie and Yonkers along the Hudson line on a special schedule, with buses connecting Yonkers with the northern terminus of the no. 1 subway line at 242nd Street.
Amtrak, however, continues to run along the Hudson, stopping at Poughkeepsie and Yonkers before heading into Penn Station, so that's an option, albeit an expensive one. If you can, this would be a good week to work from home.