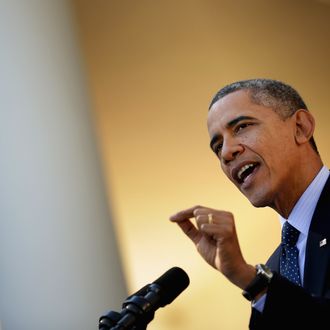 Photo: Chip Somodevilla/2013 Getty Images
Before Senate Democrats headed home for Thanksgiving, they were reportedly
making plans
to promote Obamacare's successes, since the White House seemed too preoccupied with trying to get healthcare.gov working to do any damage control. Now that the site has been declared mostly fixed, the Obama administration intends to pitch in. On Tuesday afternoon President Obama will deliver a speech on health care at the White House, kicking off a three-week campaign to remind people why the Affordable Care Act passed back in 2010. "Healthcare.gov met our self-imposed November 30
th
deadline and even as we continue to make improvements to the website, we'll also remind the public about how the Affordable Care Act is already making a positive difference in the lives of millions of Americans today," Josh Earnest, a White House spokesman,
told Politico
. "The benefits of these consumer protections will only accumulate in the weeks and months
ahead."
While healthcare.gov is working much more smoothly for users, the back end is still a mess. (About a third of those who signed up via healthcare.gov have computer-generated errors in their enrollment records, according to the Washington Post.) Rather than emphasizing that the website is fixed, a White House official tells Reuters that Obama will "discuss the ongoing work to strengthen the website," and "focus attention back on the core principles of reform that have been lost in the attention on the website, and invoke the successes that are already flowing from the law." In other words, return to his refrain from October that Obamacare is "much more than a website." The White House is coordinating with Democratic members of Congress and advocacy groups to highlight a different benefit every day through Dec. 23, the enrollment deadline to begin receiving coverage on Jan. 1.
Boosting enrollment is undoubtedly a big part of the push, but the Obama administration has a larger goal. The law was in place long before healthcare.gov existed, and at this point it's probably not going anywhere. As New York's Jonathan Chait wrote, what we're fighting over now is the midterm elections and "how much political pain Democrats in Congress must endure." Obama's hope is that he can boost Democrats' chances in 2014, and maybe his own approval ratings, if Americans start associating Obamacare with cheaper preventative care and no coverage denials for pre-existing conditions rather than a website that turned into a national punchline.