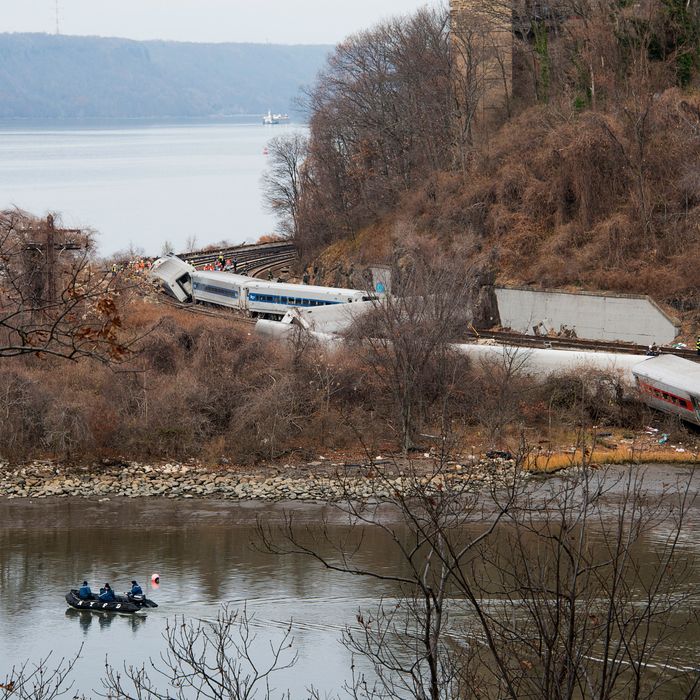 Photo: Eugene Gologursky/Getty Images
Investigators announced yesterday that the Metro-North train that derailed in the Bronx on Sunday, killing four people, was traveling at an insane 82 miles per hour around a sharp curve in the tracks when it was supposed to be going just 30 miles per hour. The train's motorman, William Rockefeller, a twenty-year veteran with a reportedly pristine record, apparently only engaged the brakes six seconds before the derailment, and by then it was too late. Now we may know why he was so slow to react: According to DNA Info's Murray Weiss, Rockefeller "virtually admitted that he fell asleep" as the train approached the curve. 
If it's the case that simple human error was to blame, the deadly accident could have been averted. In 2008, Congress mandated that rail networks install what's called a "positive train control" (PTC) system by 2015 — technology that, among other things, would automatically apply the brakes if a train is traveling too fast into a curve. The MTA, which runs Metro-North, has yet to install PTC in its trains, citing cost and technological complications, and wants the deadline extended to 2018. Experts say that, had a PTC been in place already, this tragedy wouldn't have happened. 
"A properly installed PTC system would have prevented this train from crashing," a former Federal Rail Administration official tells NPR. "If the engineer would not have taken control of slowing the train down, the PTC system would have."