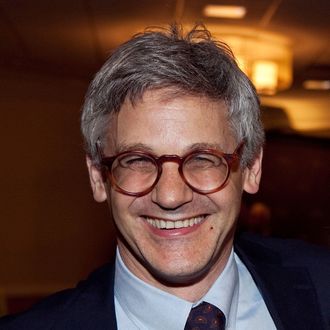 Peter Kaplan, who died last Friday of cancer, was one of New York's great seducers — and possibly the only one whose customary look was a blue oxford and khakis, with a big fat rep tie tucked in through the buttons of his shirt so as not to spill soup on it, though he'd eaten lunch hours ago (matzoh ball soup at the Cadillac Deli was an old favorite). His signature move was this: He'd escort his 24-year-old quarry into his office in the New York Observer's townhouse, cock one of his groucho eyebrows behind his big round horn rims, pause, clear his throat, pause again, clear his throat, pause. Some more inarticulate noises. And then, if you were lucky: "Do you wanna be a star?"
What a come on! What young writer wouldn't say yes to such an offer? And with that, Peter had implicated his prey in his own vast ambition, which made for a fantastic ride. Peter thought that journalism could change the world, and he mythologized himself by mythologizing everyone around him, imagining career trajectories and inflection points, allowing his people to believe preposterous things about themselves — which sometimes came true, partly because he believed in them himself. The first thing he usually did was make you laugh. Peter was aware of the comedy of his presentation: the belt he'd had since college, the shoes whose age could be measured in decades. He was prepared to find something in all people, from his dentist to the counterman at the Viand coffee shop. He was never a snob. And when you'd entertained him, said something he found smart or funny, brought him a tale of human foible, he let you know it with that big laugh. So entertaining him became part of the mission.
The Observer was built for Peter. It was housed in an old-WASP beaux-arts pile on East 64th Street owned by Arthur Carter, a Jew who'd made good on Wall Street in the go-go sixties, and whose mother had known Peter's grandmother back in Brooklyn. Once filled with 24-year-olds whose mark would be made under Peter's tutelage, 54 East 64th Street became a castle of Kaplandom: The front page meets Harry Potter, young wizards flying around the city testing their new faculties, while their elders, sardonic, equipped with unthinkable powers (this is you, Jim and Peter), worked their schemes.
Kaplan, of course, was Dumbledore, big-hearted even when the pieces were scabrous, which they often were. The meat of his tenure occurred during the unfettered, exuberant, often crass nineties boom, and the Observer glorified the city's inhabitants and their rituals even as it skewered them, turning them into Drew Friedman gargoyles, putting words in their mouths with his characteristic barking, yawping headlines that were more like sentences or whole paragraphs ("headlines that talked!" as he said), finishing the story before the prose had even begun.
Peter, who I first worked with at Manhattan, Inc. in the late eighties, didn't have a collection of maxims or a set of rules of journalism, like his mentor Clay Felker, the founder and longtime editor of New York (and later our boss at Manhattan, Inc.). Rather, he wanted to impart a whole sensibility, based on Bette Davis, FDR, JFK, F. Scott Fitzgerald, Jack Paar, David Letterman, Jack Benny, the Friar's Club, Orson Welles. In Peter's newsrooms, history was always repeating itself: Roger Ailes was Julius Caesar, Bob Dole was Nixon, classic films that no one had seen in years (Desk Set!) miraculously took on second lives as New York boardroom dramas, and there was a Rosebud in every feature.  He thought the stories his writers were telling, of Bill Clinton and Mr. Big and Lizzie Grubman, were part of history, and for this they required the proper historical mise-en-scène. Peter believed in facts, but he also believed that the crucial thing was that a paper or a magazine was telling a story, and the manner in which the story was told was indivisible from its meaning.
Peter was a connoisseur and unexcelled practitioner of memorable utterance. He loved the stagecraft of conversation, whispered strategies in an anteroom, the well-chosen thrust in a meeting, a celebratory speech. It was something he studied and something he worked at, even in the moment as he was trying to utter the right words, which explained the pauses and throat-clearing and endless misdirection that were the beauty and frustration of conversation with Peter. He was editing as he went along, with false starts and crossings out. When he got it right, he let it be known that that was what he'd been working toward the whole time. Sometimes, if he couldn't come up with the perfect phrase, he would say, maddeningly: "I'll tell you later."
Like Clay Felker and most journalists, he loved presidential politics. He was hungry for those few moments when matters are discussed, and words are rewritten, and the world suddenly flows in a different direction. If you could change what the world thinks about a president, you could change the world.
But it makes sense that Peter's most fervently worshiped idols were conversationalists, some of whom plied their trade before his acolytes were born. For Peter, the evolution of sensibility from Paar's slight wink, hair slicked back, to Carson's playful banter, to Letterman's lacerating satire, was as important an American story as anything happening in Washington. Letterman, especially, was Peter's doppelganger: flawed, self-critical, bested by the more conventional host, but indomitable. "He bounds across the stage with the long goofy strides of a Dr. Seuss gazelle," Peter wrote in this magazine in 2009. "The audience roars, and for one hour a day, the comedian is filled with hemoglobin and the sun shines upon him."
He was also a marvelous writer, though not a prolific one — his standards for himself were so high that it's a wonder he could release a single sentence. And often, the whole world is contained in each article — the one I quoted above, about David Letterman in middle age, begins with a tour d'horizon of the mood of New York City, the New York Yankees, Hillary Clinton ("exporting her Lucy Van Pelt like certitude to other countries") and Barack Obama: "even our lovely new mascot president seems careworn and drained." As a writer, you look at those images and just gape at the range and play of his imagination.
Peter could be maddening to the people who loved him. His need to project his charisma sometimes made him elusive, and when he threw up a well-chosen word cloud to conceal his true position, he could be accused of being a bullshitter. But to paraphrase Lou Reed, another recently deceased mythologizer of New York City, Peter's bullshit was worth more than other people's diamonds. A lot of his work consisted of opening the door to the gorgeous, eccentric universe that lived in his head and convincing people of its reality. The core of all of the various parody Kaplan Twitter feeds which appeared after he left the Observer in 2009 is that they are Peter's vision extended and improvised upon by editors and writers who knew him. They had a lot to work with.
Other than the Observer, Peter's career was a patchwork. He famously tanked his interview at the New Yorker. Esquire, the great magazine of his youth (he liked to teach headline writing by bringing in a big box of George Lois Esquires and blissing out over their brilliance), remained out of reach. This was no doubt frustrating to him, as it was to those who thought he should have been the magazine world's LeBron James. There's no question that Peter was disappointed by the media and entertainment culture, as anyone who'd learned the craft of journalism in the old ways would be — the conceit of the Letterman piece was that he was the last adult on TV. But Peter never lost his ambition, let alone thought it was unfulfilled. He worked with what he had, and reveled in the heroism of knotting his tie and getting on the train from Larchmont to do battle in the city. His war was never lost. He sentimentalized his tenure at the Observer ("I had a paper in New York," like "I had a farm in Africa.") But before his cancer, he talked about having one more big project in him. 
It's easy to see Peter's vision as a kind of snowglobe of New York — Eloise in the Plaza and the Chrysler building, a beautiful lost paradise, gorgeous but inert. Peter loved those things, it's true, but he was never a nostalgic, a things-were-better-in-the-old-days guy. He looked forward; the past was a way of understanding the future. He insisted on the importance of our preposterous profession, that telling people's stories in all their comic, tragic richness provides a crucial kind of cultural nourishment. As he once said of Letterman: It's an Oval Office type of a thing. Peter never lost faith that he could think and talk and dream his way into that place.  He knew there was gold beneath the rainbows of his enthusiasms, even when others couldn't see it. Fundamentally, he was a journalist — he believed that the most exciting thing was the thing that was going to happen next. Or it was hanging in the air, waiting for a person to find the words, to verbalize it. Peter never lost the thought that it might be him.