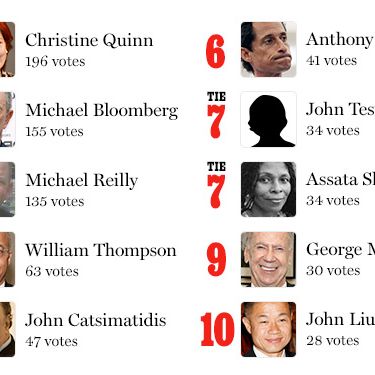 The top ten write-in vote-getters in the 2013 mayoral election.
She didn't win the race for mayor, but Christine Quinn did win the race for mayor among people who did not even make the ballot, so, she has that meaningless thing going for her.
Quinn topped her frenemy, Mayor Bloomberg, for first place on the Board of Election's official tally of the mayoral election's write-in votes released yesterday. As you can see above, the list of the top ten write-in vote-getters is a weird hodgepodge of failed mayoral candidates (Quinn, Anthony Weiner, George McDonald, Bill Thompson, John Liu, John Catsimatidis), Bloomberg, a retired Staten Island cop (Michael Reilly), an FBI Most Wanted Terrorist (Assata Shakur), and a guy we honestly can't even figure out (John Test). Seriously, who the hell is John Test?
Notable names who didn't crack the top ten include Ray Kelly (19 votes), Janette Sadik-Khan (18 votes), Rudy Giuliani (17 votes), Sal Albanese (14 votes), Bill Clinton (8 votes), Hillary Clinton (5 votes), Eliot Spitzer (4 votes), Chuck Norris (3 votes), Ted Cruz (3 votes), Derek Jeter (2 votes) —  let's just pause for a moment here and reflect on the fact that Ted Cruz got more mayoral votes, in New York City, than Derek Jeter did — Alex P. Keaton (2 votes), Ed Koch (2 votes), and Fiorello LaGuardia (2 votes).
Receiving one write-in vote each: Al Gore, Alec Baldwin, Alice Cooper, Alfred Neuman, Angelo [sic] Merkel, Barack Obama, Brian Lehrer, Carlos Danger, Elizabeth Warren, Freddie Prince [sic] Jr., Howard Stern, Lou Reed, Mariah Carey, Mariano Rivera, Mayim Bialik, Michael Howard Saul, Michael Savage, Neil Degrasse Tyson, Patrick Stewart, Phil Jackson, Ronald Reagan, Sarah Palin, and Sue Simmons.
Good work, everyone. 
This post has been updated to reflect that Michael Reilly received 135 write-in votes, which we originally missed somehow.