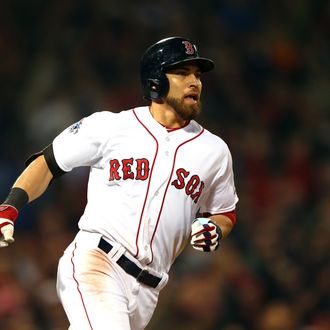 Jacoby Ellsbury.
Photo: Elsa/Getty Images
After the Yankees missed the playoffs back in 2008, they responded with an off-season spending spree in which they committed more than $400 million to three players. This was seen at the time as typical Yankees behavior: Buying their way back to the top of the standings after a mediocre season. But changes in baseball's luxury-tax rules seemed to be having their intended effect in recent years: The Yankees stayed away from big-money free agents, choosing instead to search for bargains or short-term pickups that wouldn't affect their payroll beyond 2012. There appeared to be a shift in organizational philosophy — one in which the Yankees weren't as reliant on the high end of the free-agent market to assemble their roster. And it's possible that they'll still begin next season under the all-important $189 million salary threshold, no matter what happens this off-season. But this much is clear: For better or worse, the Yankees sure are spending like the Yankees again.
On the same day the Yankees officially announced the signing of catcher Brian McCann (who'll get $85 million over five years), news broke that they'd agreed to sign center fielder Jacoby Ellsbury for $153 million over seven years (with an option for an eighth year). It's one of the biggest deals ever for an outfielder. It's a classic splashy Yankees move: They overpaid to get their man, and the contract could be disastrous down the line, but it's also a signing that should improve them in the short term. 
When healthy, Ellsbury brings a lot to the table. He's strong defensively, can hit for average, and is dangerous on the base paths. And though it required a different approach at the plate, his power spike in 2011 (when he hit 32 homers, by far the most of his career) suggests he's at least capable of hitting the ball out and might benefit from Yankee Stadium's short right field porch. He finished second in the MVP voting in 2011, and last year, finished with a WAR of 5.8, best of any Red Sox position player and thirteenth best among all major-league hitters. (To put that in some context, Robinson Cano was twelfth, with a WAR of 6.0.)
But Ellsbury's also missed huge chunks of two of the last four seasons, and he'll be 37 when the contract expires. It's the kind of long-term contract that can become a burden by the end. A-Rod's deal is an extreme example, but Mark Teixeria's deal is a more appropriate comparison: They got their money's worth for a while, but his contract looks a lot worse now that's he's exiting his prime and dealing with injury issues. The Red Sox, perhaps still stinging from the Carl Crawford signing (or perhaps just exercising some fiscal responsibility), were not willing to make that kind of commitment to Ellsbury. The Yankees, desperate to improve their roster at least in the short term, were.
By our count, there are four ways to interpret the signing: 
1. The Yankees don't care about their spending habits after all, and if they blow past the threshold, so be it. In this scenario, they're not even close to being done with their off-season shopping spree. They'll sign whomever they want, and pay their penalties so they behave the way they did for years, spending to infinity. (This is the least likely scenario.)
2. The Yankees do still care about staying under the $189 million threshold, but believe they'll still be able to sign Robinson Cano to a monster contract and ink a solid pitcher while doing so. Keep in mind that the Yankees have a lot of money coming off the books this off-season — and might not have to pay Alex Rodriguez next season, depending on what happens with his suspension. Noah Jarosh of SB Nation has already crunched the numbers: With Ellsbury in the fold, the Yankees have $139 million committed to ten players for next season. Add in the five arbitration eligible Yankees and that goes up to an estimated $154 million. If the ten remaining spots were filled with cheap players earning the league minimum, that would push them to roughly $159 million, meaning they'll have about $30 million to spend so those ten remaining spots aren't actually filled by replacement-level players. Barring other roster moves to clear salary, signing Robinson Cano would use up much of that money, but again, A-Rod's the Wild Card here. Wiping his 2013 salary off the books would free up money to re-sign Hiroki Kuroda or make a run at Japanese pitcher Masahiro Tanaka. (Keep in mind that the posting fee the Yankees would have to pay for Tanaka wouldn't count against the cap, though it's possible that when MLB and the Nippon Professional Baseball agree to new posting rules, they could mean higher salaries for Japanese players and lower posting fees.) 
3. It's been suggested that the Ellsbury signing could be designed to put pressure on Robinson Cano's camp. Like in Scenario 2, the Yankees still aim to get under the threshold, but won't necessarily wait for Cano's decision to spend their money. Ultimately, it could even mean they lower their offer as funds dry up, though it's hard to imagine the Yankees won't keep a reasonable amount of money available for Cano until he's made his decision.
4. The Yankees are preparing themselves to move on without Cano, if a deal can't be reached. (The Mariners are reportedly players for Cano, though it's in Cano's best interest to bring a second team into the mix, in case the Yankees are smart enough not to bid against themselves.) Purely from a branding standpoint, they can't afford to lose Cano without making splashy moves elsewhere. And from a baseball standpoint, the need to upgrade at other positions becomes greater if Cano's return isn't guaranteed. In the short term, a healthy Ellsbury makes the Yankees better. As for the long term, as always, they'll worry about that later.