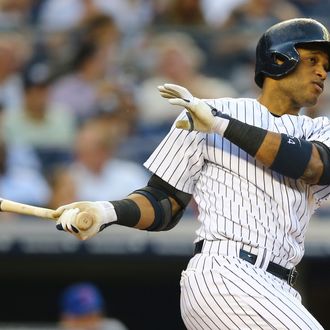 Robinson Cano.
Photo: Al Bello/Getty Images
So maybe Jay Z knows what he's doing after all. His client, Robinson Cano, has reportedly agreed to a ten-year contract with the Seattle Mariners worth $240 million. It's a huge payday for Cano: The five-time All-Star is being lured away from the Yankees with what will equal the third-largest contract in baseball history. The Yankees, meanwhile, lose their best hitter. But they're also smart to let him leave.
To say that the Yankees spent big money on Brian McCann and Jacoby Ellsbury this off-season while letting a popular, homegrown star like Robinson Cano leave isn't quite the right way to approach this. Heck, if the Yankees wanted Cano at any price, they could have made it happen, even with McCann and Ellsbury in the mix.
But matching Seattle's terms, let alone outbidding them, would have resulted in a bad contract for the Yankees. Cano is 31 years old, and no matter how talented he is now — and likely will be for the next several years — to sign him for ten years is unwise. Dan Szymborski, who projects players' future stats using a system called ZiPS, has calculated what Cano's WAR may look like over the course of the deal. In the final four years, he'll be worth an average of less than two wins a season. Over ten years, the terms of the contract (in terms of dollars spent per win added) aren't actually too absurd. But it still means a deal the Yankees would enjoy for a few years that will then handcuff them down the line — especially in a league that, with each new CBA, moves further away from a model that allows free spending and toward one that aims to curb team payrolls. And no one should understand the risks of this type of deal better than the Yankees. They've made this mistake before.
In the past, when the Yankees have been faced with losing a talented (and expensive) player from their roster, the oft-repeated refrain has been that they can't afford not to re-sign him. After winning his second MVP in three years, Alex Rodriguez opted out of his contract and got a new ten-year deal that looks worse and worse every year. (Remember, no matter what happens with his arbitration hearing, he's still under contract until 2017. 2017!) The same reasoning went into CC Sabathia's contract extension in 2011, though its shorter length meant a lower risk.
Alex Rodriguez is a tricky comparison, because there are (according to Major League Baseball, at least), unnatural elements in play that could explain A-Rod's performance in certain years. But just because the Yankees got pretty good production out of Rodriguez over the first five years of his extension (an average WAR of 4.26 over that time) doesn't justify the whole contract. By comparison, Cano's deal isn't quite as bad: He projects to be worth 4.86 wins per year over the first five years, and has an average annual salary some $3.5 million lower than A-Rod's. But Cano's is still a deal that won't likely look so good five or six years down the line. And that's why the Yankees passed.
This off-season, the Yankees have been preparing themselves for this a bit. With the signings of McCann and Ellsbury, they weren't in quite as desperate a situation. And while they needed to improve in several areas after missing the playoffs last year, the off-season isn't a total bust, even now that Cano is being subtracted from their roster.
But back to the contract itself. Cano leaving for Seattle is going to be seen as proof that the new luxury-tax system works. After all, the Yankees are about to let a star player in his prime leave. But it's also an indication that the Yankees are learning that there are limits to these things. They recognize that no matter the short term gain, it's not smart to sign a player to a contract that may very well become toxic in its final years. To be sure, the Yankees current financial situation is complicated by mistakes they've already made. But even if it weren't, signing Cano for these terms wouldn't have been wise. It's the same reason that the Cardinals let Albert Pujols — an even bigger star than Cano at the time he hit free agency — leave St. Louis to sign with the Angels for the same money Cano is getting.
The natural reaction anytime an expensive player leaves is to point out that it gives the team financial flexibility in both the long and short term. And it's true that the Yankees will enjoy that flexibility, though that's really more of a consolation prize: All things being equal, the Yankees would rather have big-name players instead of the freedom to sign big-name players. But the specifics here didn't work for them.
The Mariners made the kind of move they didn't make ten years ago, when they let Alex Rodriguez leave. (Texas, by the way, came to regret signing him to that contract.) And now the Yankees have made the type of decision they generally don't. They've long been a franchise in perpetual win-now mode, but in letting Cano leave, they're thinking about the long term. Watching Cano play, and likely thrive, in Seattle for the next several season will be difficult. But that doesn't mean they should have gone to any length to prevent it.