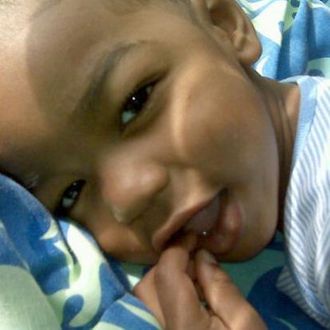 A 4-year-old child who died while in the custody of his babysitter had "cigarette burn marks all over his body and had lacerations on his arms, legs and genitals," when he was found in the babysitter's 48th Street apartment on Wednesday, DNAinfo reported. The babysitter, 37-year-old Janaie Jones, allegedly told police, "I was giving him corporal punishment. … I was trying to control him." Police Commissioner Bill Bratton told reporters Thursday that before he died, Myles endured "horrific injuries over a period of days."
Jones, who had been caring for the child, Myles Dobson, since December 28, allegedly beat him with belts and hangers over a period of several days, a source told DNAinfo. She told police she left him alone in the bathroom when she heard a "thud" and returned to find him unconscious. Police told DNAinfo that Jones rarely brought the boy outside after taking him in when his father, 37-year-old Okee Wade, was arrested last month on a warrant for skipping a court appearance on fraud charges.
"It looks like we're going to charge her," one police source told the New York Daily News. But that same source also said a decision hadn't been made about specific charges because "it's too early." Still, police don't generally make this much information public about a case they don't intend to pursue.