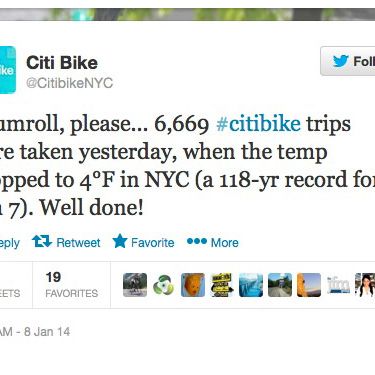 Remember yesterday? Stepping outside in New York City was like have a zillion tiny needles shoved into every speck of bare skin — and then the wind blew and it got worse. Leaving the house for more than minutes at a time was strongly discouraged. And yet, on the most frigid day in recent memory, nearly 7,000 trips were braved on one of those bank-branded electric-blue cruisers. Those riders have all since shattered into pieces.
The 6,669 trips are far below average daily usage — which is about 35,000, with a peak of 44,000 — but are still impressive on a day on which temperatures hovered around four degrees. (The worst day so far came earlier this month, when it was a bit warmer and just 1,230 trips were taken.) And the relative success of the bike-share system when the terrible weather was all anyone could talk about casts the city's decision to keep Citi Bike available year-round in a new light. The lack of snow surely helps, but even still: The die-hards are out there and they are committed.
"Part of it was that the streets were really clear yesterday," said a spokesperson for NYC Bike Share, confirming the crazy number. "And it can be more pleasant to ride a bike for a short trip sometimes — it can cut the walking time in half." She added, "I think even in the cold weather, people have places to go. We're New Yorkers and we need to get around."
Adam Martin contributed reporting.