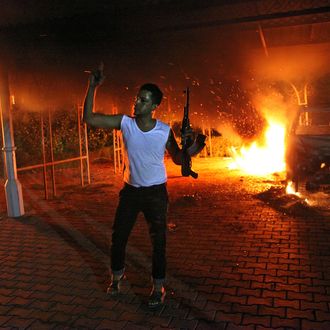 Photo: STR/AFP/Getty Images
Way back in December 2012, an independent review found that systemic failures in State Department security and organization had led to the deadly September 11, 2012, attack on the compound in Benghazi, which killed ambassador Chris Stevens and three others. On Wednesday, a Senate intelligence committee report came to similar conclusions. "The attacks were preventable, based on extensive intelligence reporting on the terrorist activity in Libya — to include prior threats and attacks against Western targets — and given the known security shortfalls at the U.S. Mission," the investigators said in a statement. But the report included a new bit of grim information: Aiding in the FBI's investigation since the attack is a deadly proposition for people in Benghazi.
People helping the United States investigate the attack keep dying, former FBI Director Robert Mueller testified.
In testimony before the Senate Appropriations Subcommittee on Commerce, Justice, Science, and Related Agencies, then-FBI Director Robert Mueller noted that as many as 15 individuals supporting the investigation or otherwise helpful to the United States have been killed in Benghazi since the attacks, underscoring the lawless and chaotic circumstances in eastern Libya. It is unclear whether their killings were related to the Benghazi investigation.
It might be unclear, but it also hardly seems like coincidence. The report recommends the U.S."swiftly bring the attackers to justice, in spite of the unwillingness or lack of capacity of the Libyan government to assist in this effort." Which those fifteen probably would have liked, as well.