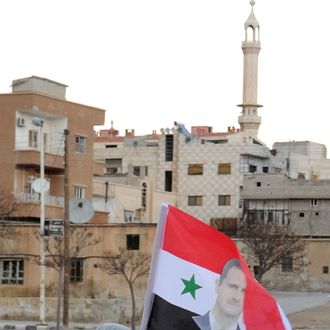 A Syrian woman holds a flag decorated with Assad's picture in Nabak on December 9, 2013.
Photo: STR/AFP/Getty Images
Officials have new Homeland-esque fears about Americans who travel to Syria in hopes of joining the fight against President Bashar al-Assad's regime:  Islamic extremist groups in Syria are believed to be seeking out Westerners and trying to recruit them to carry out terror attacks when they head home. The number of potential targets for recruitment is extremely limited – sources tell the New York Times only 70 Americans have tried to join Syria's civil war – but U.S. officials are on it.
Tracking Americans who have returned to the U.S. from Syria is one of the FBI's top counterterrorism priorities, and a few of those people are under constant surveillance. "We are focused on trying to figure out what our people are up to, who should be spoken to, who should be followed, who should be charged," said James Comey, director of the FBI. "I mean, it's hard for me to characterize beyond that. It's something we are intensely focused on." Presumably if you're attempting to join a Syrian rebel group, it isn't a surprise that the government may be watching you.