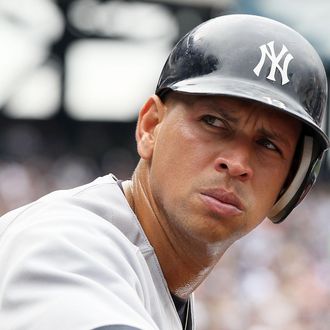 Photo: Jim McIsaac/Getty Images
After an arbitrator on Saturday sided with Major League Baseball in deciding Alex Rodriguez should be suspended for the entire 2014 baseball season for doping, the slugger vowed to "take this fight to federal court." On Monday, that's exactly what he did, suing MLB and the players' union to overturn the 162-game suspension, the longest in the sport's history. In the suit, Rodriguez claims the arbitrator, Fredric Horowitz, showed "manifest disregard for the law," "evident partiality," and refusal "to entertain evidence that was pertinent and material to the outcome," ESPN reports.
Based on evidence including the testimony of Tony Bosch, who ran a Florida anti-aging clinic called Biogenesis of America, "Horowitz concluded Rodriguez used testosterone, human growth hormone and Insulin-like growth factor-1 in 2010, 2011 and 2012," the Associated Press reported. A-Rod's lawsuit claims his lawyers weren't given the chance to cross-examine Bosch, and it makes public Bosch's testimony, which had previously been sealed.
But the suit by itself is not likely to get A-Rod playing again, according to ESPN: "Rodriguez's bid to vacate the arbitrator's decision is viewed as a long shot by many legal experts, since the process was agreed-upon through collective bargaining and an arbitrator's decision in a labor dispute is considered to be binding."