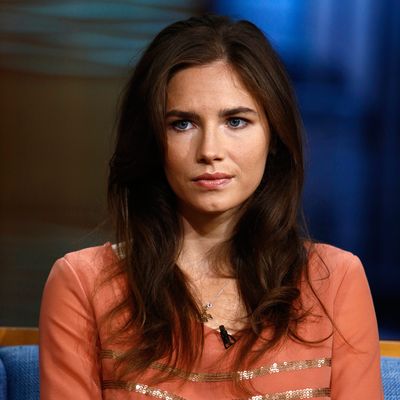 Photo: Peter Kramer/NBC/NBC NewsWire
An Italian court today found Amanda Knox, the poster child for not studying abroad, guilty again in the 2007 murder of her roommate Meredith Kercher. (To recap: Knox and her boyfriend at the time, 29-year-old Italian Raffaele Sollecito, were originally convicted together in 2009, and then freed in a 2011 appeal. A third man, Rudy Guede, was convicted of the same crime separately, and is currently in jail.) This time, Knox was resentenced to 28 and a half years. The only problem: Knox currently lives in Seattle and has no plans to return to Italy. 
The verdict is not yet final anyway. Because Italian law is totally insane, the defense can once again appeal.
While Sollecito, who was also found guilty a second time, was in court, Knox was not present for this round, telling the New York Times she could not put herself "in the hands of people who very clearly want me in prison for something that I didn't do. And I can't do that. I just can't. No. No way, no how."
"I don't feel safe, and I am here in the United States," she added. "I don't know what's going to happen. I don't think that they're going to convict me. I really don't, because the evidence is not there. But the doubt comes from the fact that I never thought that I would be convicted. And then look what happened." And now it's happened again.
If the conviction is upheld this time, there will be an extradition fight, featuring the U.S. State Department. "It would feel like trainwreck," Knox said in a recent interview with the Guardian about the possibility of another guilty verdict. "I don't know what would happen."
"Legally I'll be defined as a fugitive, but I will continue to fight for my innocence," she said in a statement earlier this month. "I will not willingly submit myself to injustice."