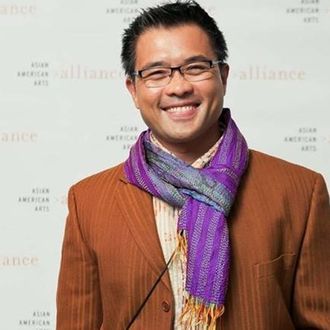 Photo: Courtesy of Randy Gener
An attack on a New York arts journalist garnered little attention when it happened last week, but on Sunday friends and supporters of 46-year-old Randy Gener, who remains hospitalized after undergoing brain surgery, rallied to draw attention to the assault that seriously injured the gay Asian-American journalist. An unknown suspect attacked Gener at around 3 a.m. on January 17, as he left a party near West 54th Street and Seventh Avenue, close to his Hell's Kitchen home, his sister, Jessica Blair-Driessler, told The Wall Street Journal. "The suspect didn't take anything from Mr. Gener, police said, and fled in a silver four-door vehicle." Police are investigating whether the attack was a hate crime.
Gener had surgery at St. Luke's Roosevelt Hospital for a fractured skull and swelling in his brain, his sister told the Journal. He was awake by Sunday afternoon, but his speech made no sense, she said. "My understanding is the road for recovery is going to be very long." A friend, Liz Casasola, told CBS New York that Gener was "coming in and out of consciousness, and he is not quite aware of what's going on." Gener's husband, Stephen Nisbet, told CBS the attack happened very close to the safety of his house. "Three more minutes he would have been in his own bed," Nisbet said.
Last year saw an ugly spate of hate crimes in New York, some against gay people, such as the fatal shooting of Mark Carson, a gay man, and some apparently racially motivated, such as the beating of a Sikh Columbia professor. Police are hoping witnesses will come forward in Gener's attack. His sister told the Journal: "Part of the healing process is that he needs to understand what happened to him."