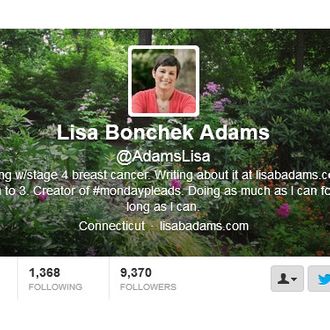 Last week at the Guardian, the writer Emma Gilbey Keller wondered aloud, "Forget funeral selfies. What are the ethics of tweeting a terminal illness?" Her commentary centered on the public presence of Lisa Bonchek Adams, who has blogged and tweeted her way through treatment for metastatic breast cancer. "As her condition declined, her tweets amped up both in frequency and intensity. I couldn't stop reading — I even set up a dedicated @adamslisa column in Tweetdeck – but I felt embarrassed at my voyeurism," Keller explained. "Should there be boundaries in this kind of experience? Is there such a thing as TMI? Are her tweets a grim equivalent of deathbed selfies, one step further than funeral selfies? Why am I so obsessed?"
Keller's rhetorical questions were met with anger and hurt from her audience, including Adams, and the Guardian has since removed the entire column, but not before she passed the obsession on to her husband, former New York Times executive editor Bill Keller.
In the Times today, Mr. Keller picked up where his wife left off, likening Adams's treatment and personal writing to "a military campaign" and contrasting her cancer fight with that of his father-in-law's: "His death seemed to me a humane and honorable alternative to the frantic medical trench warfare that often makes an expensive misery of death in America," Keller wrote.
His point, like his wife's, is underinformed and muddled in a mess of condescension toward Adams's suffering and her work. In addition to factual errors, he described Adams as "a cheerleader for cancer research," noting the research fund she helped start, but added, "Beyond that, whether her campaign has been a public service is a more complicated question." Her writing was described as pecking, and so on:
"The words of disease become words my brain gravitates to," she pecked the other day after a blast of radiation. […]

… any reader can see that Adams's online omnipresence has given her a sense of purpose, a measure of control in a tumultuous time, and the comfort of a loyal, protective online community. Social media have become a kind of self-medication. […]

Her digital presence is no doubt a comfort to many of her followers. On the other hand, as cancer experts I consulted pointed out, Adams is the standard-bearer for an approach to cancer that honors the warrior, that may raise false hopes, and that, implicitly, seems to peg patients like my father-in-law as failures.
Adams responded in a huge, emotional string of critical tweets:
As did Jeopardy! celeb Ken Jennings and Boing Boing blogger Xeni Jardin, who has written extensively about her own breast cancer:
Even before her husband doubled-down on the unnecessary second-guessing, Ms. Keller's column had problems. "Since this article was published two days ago, there's been a lot of negative comment on Twitter and below the line. Lisa Adams herself was upset by it," Emma Keller amended in an update on Friday. "I had been in communication with her a number of times in recent weeks; given her health, I could have given her advance warning about the article and should have told her that I planned to quote from our conversations. I regret not doing so." The piece has since been taken down for quoting the private correspondence, "pending investigation."
But beyond the potential journalistic malfeasance, the larger issue remains the discounting of one woman's vast and varied experiences to make more general, misguided points about the types of treatment available or our culture's urge to "overshare." Adams is very much alive and has found an audience that values her personal journey as more than just voyeurism. Instead of using their respective positions of power to wrestle awkwardly with something that makes them uncomfortable, the Kellers could attempt to consider Adams's online presence on its own terms, or just unsubscribe.
Update: "Some of the reaction (especially on Twitter, which as a medium encourages reflexes rather than reflection) has been raw, and some (especially in comments posted to the article online, where there is space for nuance) has been thoughtful and valuable," Bill Keller told Times public editor Margaret Sullivan, who took on the issue in a post this afternoon. "I think some readers have misread my point, and some – the most vociferous – seem to believe that anything short of an unqualified 'right on, Lisa!' is inhumane or sacrilegious. But I've heard from readers who understood the point and found it worth grappling with."