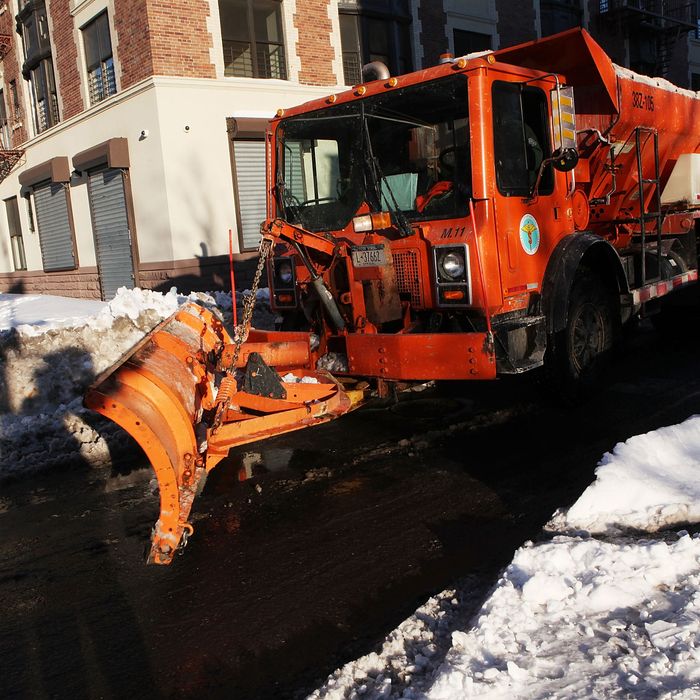 The Bloomberg days.
Photo: Andrew Burton/Getty Images
Bill de Blasio was up before sunrise today, his first on the job following a New Year's inauguration, to deal with an impending mess of snow, with up to ten inches expected on Thursday and Friday. Clad in a Brooklyn hoodie and sneakers, the new mayor stared furtively at a snow plow lest anyone confuse him for the last guy, who almost definitely spent the 2010 blizzard in Bermuda.
"It was cold at the inauguration, so Mother Nature let the new mayor know right away who was in charge," warned Governor Andrew Cuomo. "We are looking at a serious storm situation."
The National Weather Service, expecting wind chills below zero and winds up to 45 miles per hour, has issued a winter storm watch in the city and a blizzard warning for Long Island into tomorrow:
A BLIZZARD WARNING MEANS SEVERE WINTER WEATHER CONDITIONS ARE EXPECTED OR OCCURRING. FALLING AND BLOWING SNOW WITH STRONG WINDS AND POOR VISIBILITIES ARE LIKELY. THIS WILL LEAD TO WHITEOUT CONDITIONS … MAKING TRAVEL EXTREMELY DANGEROUS. DO NOT TRAVEL. IF YOU MUST TRAVEL … HAVE A WINTER SURVIVAL KIT WITH YOU. IF YOU GET STRANDED … STAY WITH YOUR VEHICLE.
Much of the East Coast, from Boston to Washington, D.C., will likely be affected, but no matter what happens, remember that it's now officially De Blasio's fault.